Motorcycle Tour: Island Hopping by Motorcycle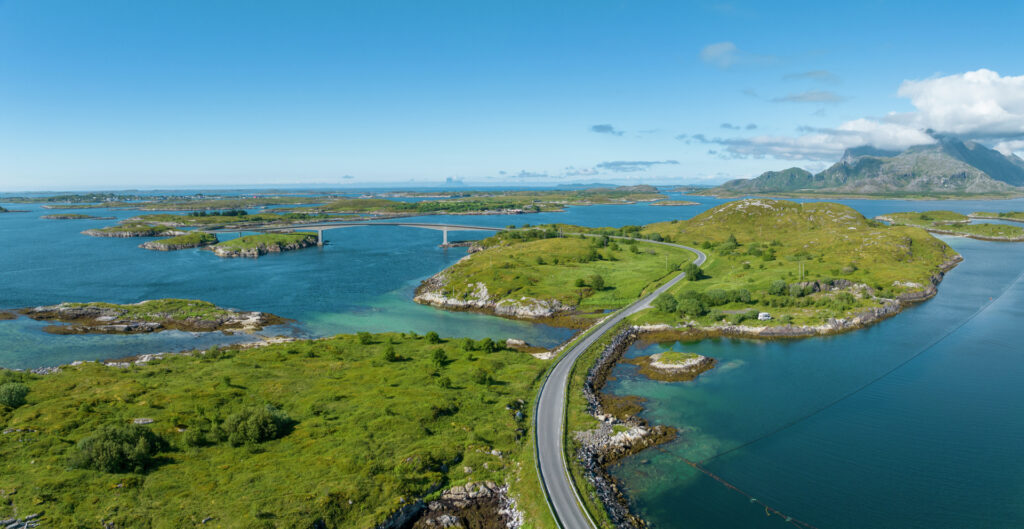 Many of the islands along the Helgeland coast are so small and have so few roads that we often recommend travelers to leave their car on the mainland and explore them on foot. However, that's not the case with Dønna and Herøy.
Tour info
Length: Approximatley 90 kilometers
Recommended duration: 2 to 4 days
Stopping points:
Seløya
Øksningan
Dønnesfjellet
And many more
Dønna is one of the largest islands along the Helgeland coast and is connected by bridges to several islands in the beautiful neighboring municipality of Herøy, where the islands are like pearls on a paved string. However, simply taking the fastest route from north to south here would be a waste, as there are many side roads worth exploring and taking a detour.
The journey begins with a ferry from the mainland, either from Søvik, south of Sandnessjøen, to Herøy, or from Sandnessjøen to Dønna. You can choose depending on which ferry suits you best. The travel route we have linked above starts from Søvik and ends on Dønna, but you can also do it in reverse if it fits better.
Dønna and Herøy have a lot to offer, so we recommend staying overnight for one or more nights. You can go on a cultural and historical RIB safari with Seløy Kystferie, try freediving with Nordvær, visit the chocolate factory Sjokoladebrygga, and enjoy great food at several of the fine restaurants and eateries.
Takk for at du hjelper oss med å ta vare på naturen og lokalsamfunnene på Helgeland.
Takk for at du:
Praktiserer sporløs ferdsel, og tar med avfall og toalettpapir tilbake til nærmeste søppeldunk.
Planlegger toalettbesøk, slik at du får gjort det du må der det ikke er til sjenanse for andre.
Respekterer det lokale dyrelivet, holder hunden i bånd og holder god avstand til både ville og tamme dyr og fugler.
Respekterer privat eiendom, og holder avstand til private hus og hytter.
Viser godt båt-vett, holder god avstand til land, lav fart nært andre på vannet, inkludert dyr og fugler, og unngår unødig kjøring som skaper forstyrrende motorstøy.
Respekterer ferdsels- og ilandstigningsforbudet i sjøfuglereservatene i hekketiden.
Følger fjellvettreglene, og planlegger turer etter evne og erfaring.
Leier en erfaren guide på turene der du selv ikke har kunnskapen eller erfaringen som trengs for en trygg tur.