Eight-course camping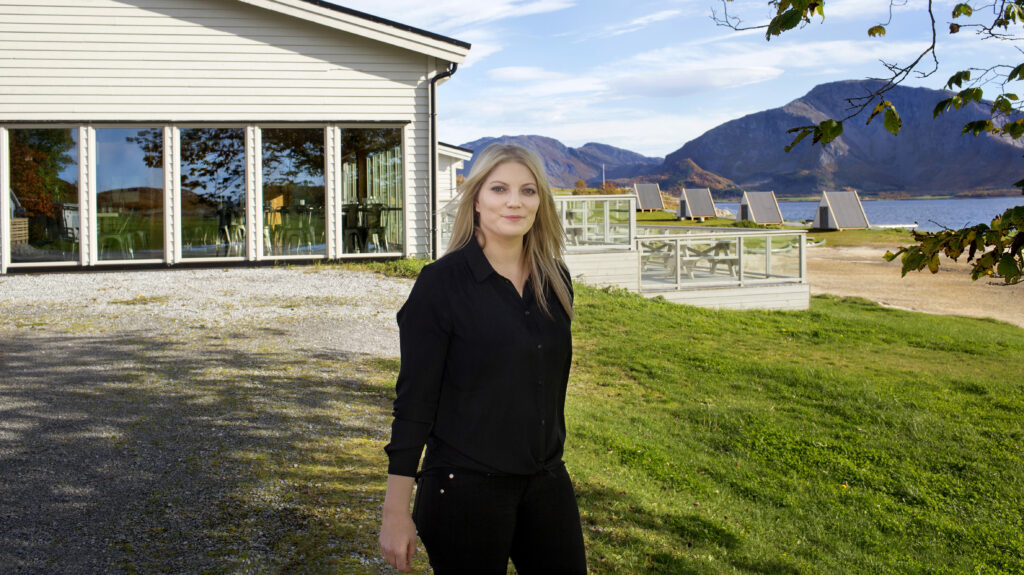 Mette Møller / Visit Helgeland
A campground that invites to an eight-course gourmet dinner. Is it possible?
Text: Mette Møller
The answer is yes, and the opportunity exists at one of the most beautifully located campgrounds along the Norwegian coast. Torghatten Camping and Beach Restaurant, a few minutes' drive out into the sea from Brønnøysund, have turned their backs on fast food found everywhere – and instead built up a kitchen at a level you would not expect at such a place.
Fish & seafood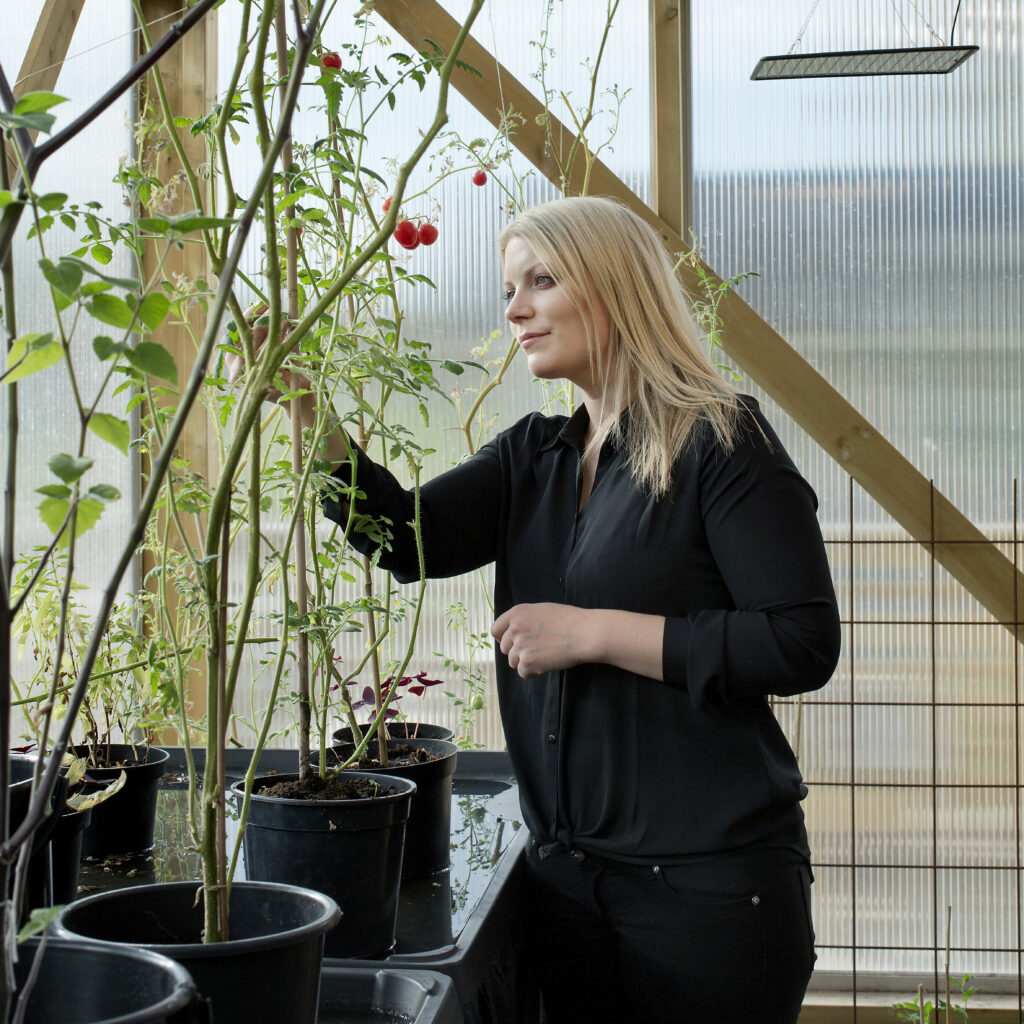 Kamilla Pettersen Hatten (33), born and raised on the farm that has evolved over the years into as much of a food destination as a campground, is the head chef who oversees a team of four chefs, three waiters, and a sommelier during the season that runs from mid-June to the end of August.
An eight-course dining experience with a wine package, either with or without alcohol, is the exclusive offering at the beach restaurant, where you can watch the Hurtigruten cruise by in the fjord from your restaurant table through the large windows.
If you prefer two or three courses, that is also an option. The common denominator for the menu is fish and seafood.
Good atmosphere
The focus on food becomes apparent right from check-in. The reception at the campground is located in a small greenhouse at the entrance, where Kamilla's father, Per Kåre Hatten, cultivates herbs, tomatoes, and baby carrots. Nearby is the root cellar, where Per Kåre preserves his potatoes and vegetables in the best possible way, and just beyond that, we find the smokehouse, which serves as the foundation for many of the menu's dishes.
At Torghatten Camping and Beach Restaurant, they smoke everything themselves, including salmon, cod, pollock, and whiting, with smoked cod being the signature dish.
Smoked cod or whiting with carrot puree, bacon, browned butter, baby potatoes, and pickled red onions.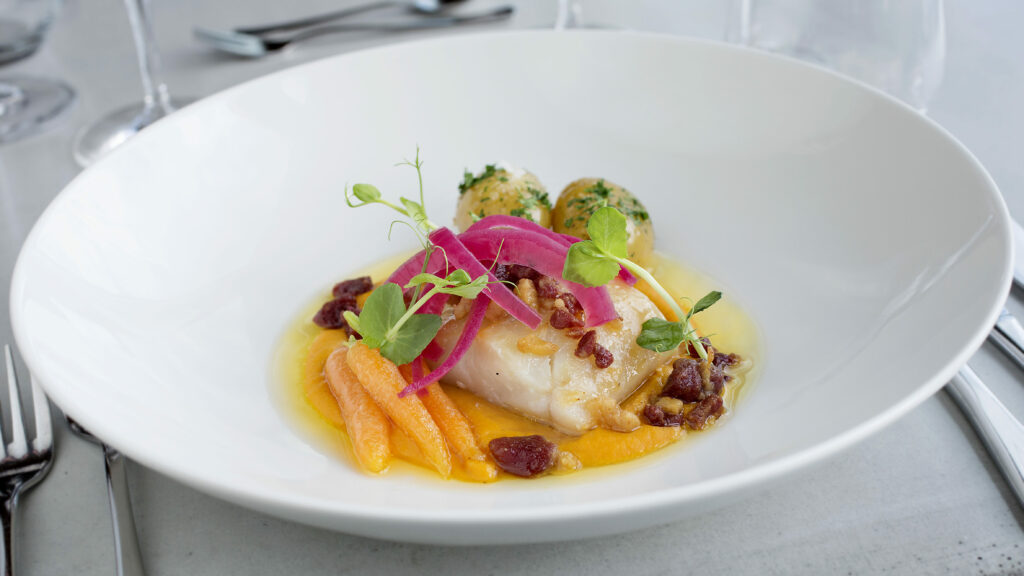 "Some guests might have slightly different expectations for a campground, as we don't have french fries here," Kamilla says with a smile.
"But most people enjoy good food, so when they come here and dine, my experience is that the atmosphere becomes lively quite quickly. Smoked cod with carrot puree, bacon, and potatoes is absolutely delicious. And fried kale is like eating potato chips! Suddenly, the kids want to try it, and before you know it, they're ordering one or three dishes themselves."
New flavor combinations
The smokehouse plays a central role in the culinary experience at Torghatten Beach Restaurant, and a delicate appetizer of smoked and cured salmon with mustard sauce, honey crispbread, and radishes has become a classic on the menu.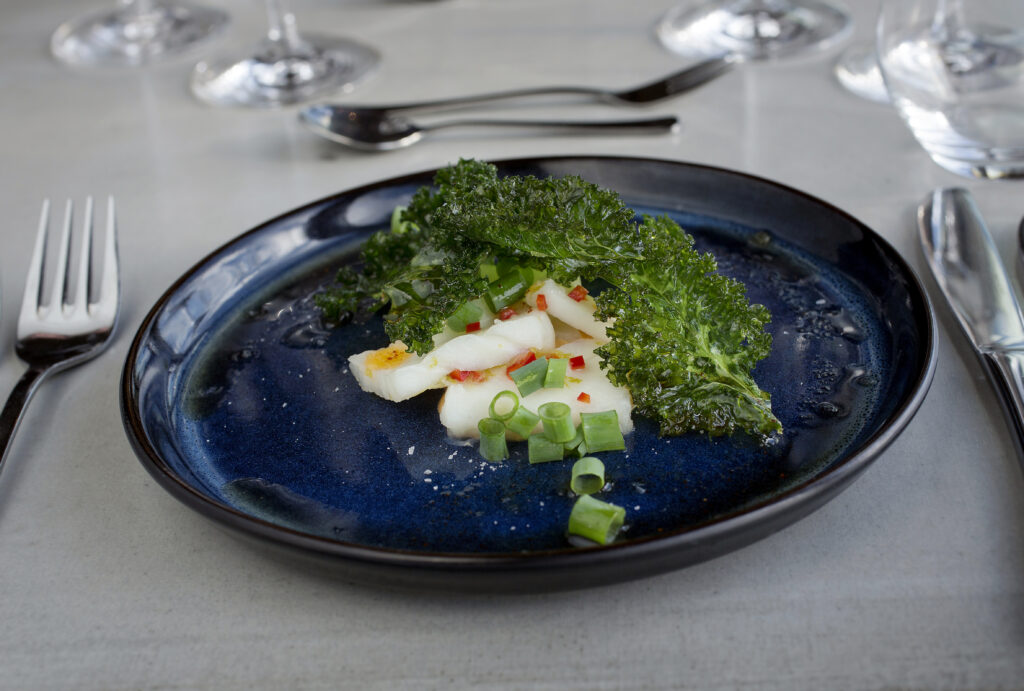 Halibut ceviche with chili mayonnaise, fried kale, spring onions, and chili oil.
But Kamilla and her team also love to create new flavor combinations. Halibut with crispy ling skin and truffle seaweed is one example. Their own halibut ceviche with chili mayonnaise and fried kale is another. And how about a seafood soup with super-fresh shrimp sourced from a shrimp boat in Brønnøysund? A dessert featuring vibrant red currant sorbet, caramelized white chocolate, raspberry sauce, and Jerusalem artichoke crisps is also not your typical camping fare!
It has been almost ten years since Kamilla's father decided to focus on food and develop the campground into something more unique. The location itself couldn't be better, with vast open spaces and a long shoreline. Through connections with a creative and talented chef from England, he decided to open a restaurant.
Kamilla has been part of the entire journey, learning from various head chefs over the years, until one day she was ready to take over everything herself. What was once daring and innovative in a small place at the foot of Torghatten, and still remains a unique combination of camping and culinary experience, has become a trademark and a way of life.
Everything is grown, preserved, and planned in preparation for the busy summer season, and guests come from all over Europe to experience it.
Outdoors
The campground is located so close to Torghatten that it only takes a few minutes' walk along the shoreline to catch a glimpse of the famous hole in the mountain. It's a beautiful walk that everyone can enjoy, and if you're up for it, you can even hike up and through the Torghatten – the mountain with a hole through it.
Popular and distinctive tree tents, ready for guests who want to try glamping, adorn parts of the campground's shoreline. There is also a dedicated sandy cove that is particularly popular among children on sunny days. The beach restaurant has plenty of outdoor seating, which quickly fills up when the weather is pleasant. The local beer, Torghatten Pils, specially brewed for Torghatten Camping and Beach Restaurant, gains many fans during the peak of summer.
And all of this is because a forward-thinking father believed that even camping guests deserved an extraordinary dining experience. He gave them the opportunity to order an eight-course gourmet dinner if they wished.
Torghatten Strandrestaurant – A dining close to the ingredients
Torghatten Strandrestaurant is magnificently situated at the foot of the legendary mountain Torghatten, 15 km from the Brønnøysund town centre. Time and again travellers are delighted to discover this beautiful seaside restaurant and its terrific fjord view.
Read more & book