Trollfjell Global Geopark – explore a unique landscape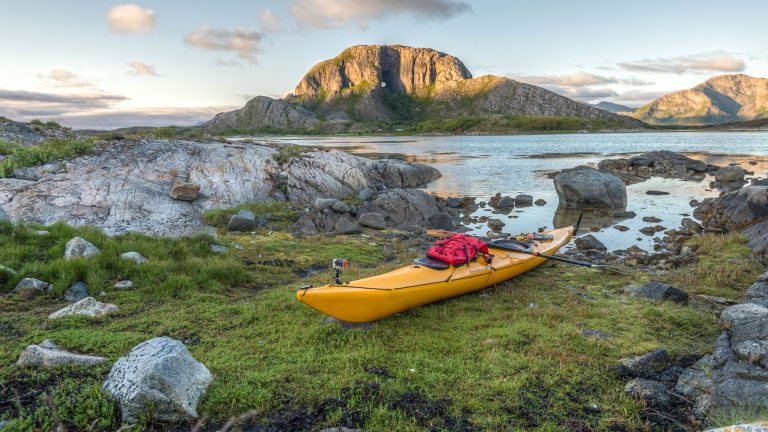 Why are many mountains in Helgeland so unusual, and what do they have to tell us? We invite you to learn more by exploring Trollfjell Geopark, a large area in Southern Helgeland that has a very special landscape shaped by unique geological processes over the course of 500 million years.
In this Geopark you can learn how this unique landscape was shaped by a combination of ancient geological processes and powerful forces during far more recent ice ages. This, in turn, has shaped people's way of life here ever since the Stone Age, including today's coastal culture.
The strandflat that forms a large part of the Trollfjell Geopark is globally unique, sculpted from the bedrock when the massive ice cap that had covered Scandinavia retreated at the end of the last ice age. Today the area has a myriad of low-lying islands, islets and skerries surrounded by shallow seas and mountains that have very distinctive shapes.
You can learn more about the landscape and the geological processes that shaped it by visiting Trollfjell Geopark's website.
In the geopark, you can learn about how geology and several ice ages have shaped a unique landscape, which in turn is the reason for the special coastal culture and the way of life of people since the Stone Age.
Trollfjell Geopark is located on the largest continuous coastal plain in Norway. The coastal plain is unique in a global context and was carved out in the bedrock in the area between sea and land when the ice receded after the last ice age. This is a fantastic archipelago with thousands of islands, islets, and reefs, surrounded by shallow sea areas and unique, enchanting mountains.
Explore the Geopark on foot
A multitude of nature experiences await you in Trollfjell Geopark, and there is something for everybody. Here you can walk on quite level terrain, or ascend mountain tops that range from 200 to 1058 metres in height. You will soon notice that the landscape has cultural and historic importance as well as natural beauty. More than 70 marked trails of varying difficulty connect the Geopark's many exciting geological sites.
Explore the Geopark by kayak
The myriad of islands in the Trollfjell Geopark, and the sheltered waters between them, are ideal for kayaking, and it's a great way to feel close to the natural elements. Regardless of which direction the wind is blowing, you should be able to find an idyllic kayaking route. All in all, the archipelago counts 13,000 islands, islets and skerries. Nearly 250 bird species nest in the area. As you explore these waters, you are likely to see sea-eagles, eider ducks, geese, guillemots, oystercatchers, and many other species up close.
Explore the Geopark on two wheels
It is very popular to cycle the Helgeland coast and its scenic islands at your own chosen pace. You move more slowly and absorb far more impressions than when you are travelling by car. You ride for a bit, perhaps go for a hike, eat when you are hungry, and sleep soundly after the day's exertions.
The islands of the Trollfjell Geopark are relatively flat, making them perfect for bicycle trips for the whole family. One of our recommended routes is to start at Leka and head north. You can ride all the way, or take the Hurtigruten coastal steamer from Rørvik to Brønnøysund, and continue island-hopping by bicycle.