Backcontry skiing: Høgtuva 1276 meters above sea level
Kristin Johansen
The locals refer to it as "The National Mountain of the People of Rana." This distinctive peak is visible from large parts of Rana and offers a fantastic view of the sea, island mountains, and the Svartisen Glacier.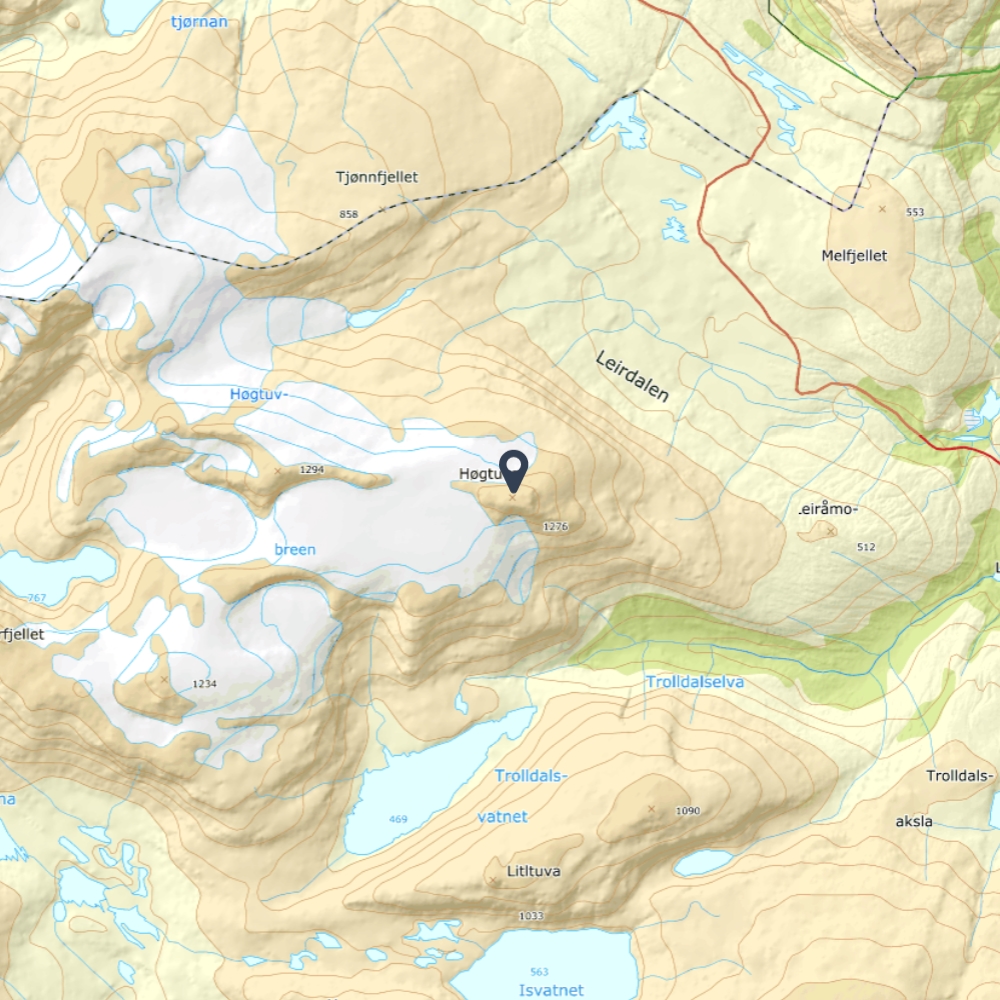 Trail information
Difficulty level: Challenging
One-way distance: 10 km
Elevation gain one way: 1276 m
Estimated time one way: 5-6 hours
Starting point: View the starting point on Google Maps
Høgtuva is especially worth visiting on a clear weather day. If you drive into Rauvassdalen, towards Melfjordbotn, you will reach the base of the mountain Høgtuva. Here, you will be rewarded with an impressive view of the sea, island peaks, and the Svartisen Glacier. The hike up takes approximately 3-3.5 hours at a steady pace. Follow the ridge up and ski down the snow-filled, wide couloir for a fantastic descent.
Always check the weather forecast and avalanche forecast before embarking on a summit trip.
Takk for at du hjelper oss med å ta vare på naturen og lokalsamfunnene på Helgeland.
Takk for at du:
Praktiserer sporløs ferdsel, og tar med avfall og toalettpapir tilbake til nærmeste søppeldunk.
Planlegger toalettbesøk, slik at du får gjort det du må der det ikke er til sjenanse for andre.
Respekterer det lokale dyrelivet, holder hunden i bånd og holder god avstand til både ville og tamme dyr og fugler.
Respekterer privat eiendom, og holder avstand til private hus og hytter.
Viser godt båt-vett, holder god avstand til land, lav fart nært andre på vannet, inkludert dyr og fugler, og unngår unødig kjøring som skaper forstyrrende motorstøy.
Respekterer ferdsels- og ilandstigningsforbudet i sjøfuglereservatene i hekketiden.
Følger fjellvettreglene, og planlegger turer etter evne og erfaring.
Leier en erfaren guide på turene der du selv ikke har kunnskapen eller erfaringen som trengs for en trygg tur.