Unique places to stay in Helgeland
Kristoffer Møllevik / Visit Helgeland
When you are travelling in Helgeland, you are never far from an exciting place to spend the night. Whether you prefer a great hotel, a restored rorbu cabin, a tiny-house perched on a raft, or a dome tent, we guarantee that you can find something very special.
Skolo – the old school on Seløy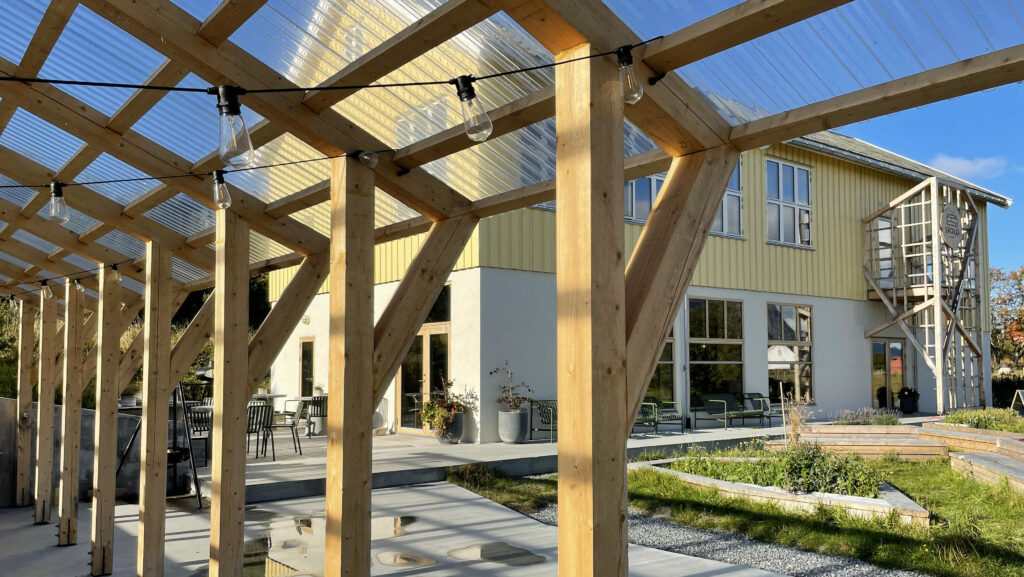 Skolo
The old school on Seløy has been both refurbished and renewed – as well as repurposed and given a new lease on life. Ingrid and Remi started their impressive renovation project in 2018. Thanks to their respect for old qualities worth preserving, lots of hard work, local pride and skilled architects, the school has now become quite an attraction. The old classrooms and teachers' lounge have been turned into beautiful guest rooms and holiday apartments. The old gymnasium is now a shop and a café with Italian pizza on its menu.
The spacious schoolyard is now an attractive garden, with a pavilion and a barbecue pit. It's a great place to relax and meet other people on holiday, as well as the locals, including craftsmen, artists and musicians. Today, Skolo is the perfect holiday base for exploring the scenic islands of Herøy and Dønna.
Tips: Nearby you will find the base of Seløy Kystferie, which offers kayak and bike rental. They also invite you to join them on deep-sea fishing trips and exciting RIB sea-rafting safaris.
The "eagle dome" on Rangsundøya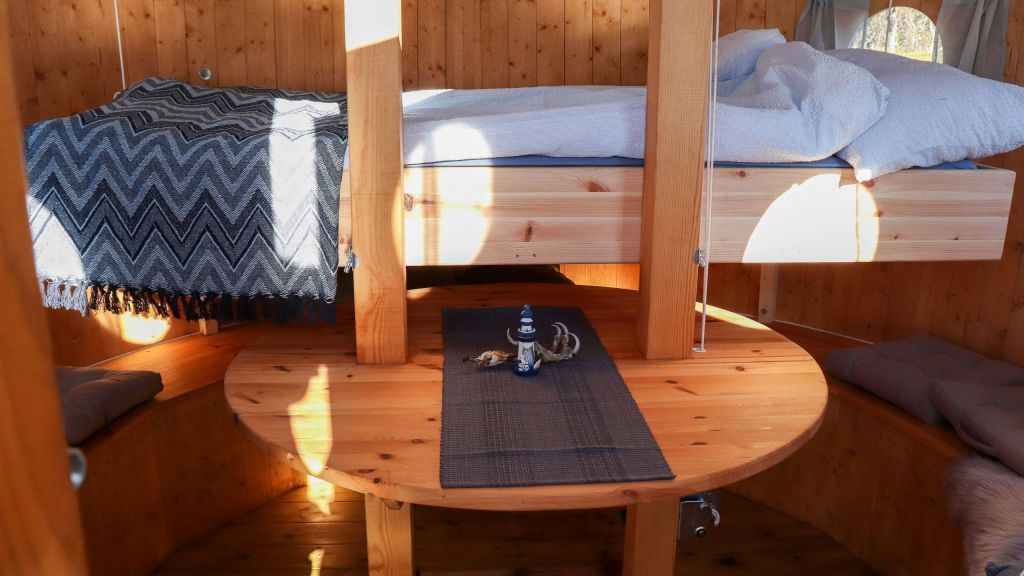 Helgelandsidyll
On the island of Rangsundøya in Rødøy municipality, you can rent the barrel-shaped Ørnedomen ("eagle dome") from a company called Helgelandsidyll. Your innovative quarters are simply furnished and perfect for a couple who wants to feel totally immersed in the surrounding landscape. Your accommodation enjoys an amazing view of the fjord, the nearby islands and the famous mountain Hestmannen. This is a great base for kayaking, and Rangsundøya's low but beautiful mountain wilderness also offers good hiking.
Helgelandsidyll rents out kayaks, fishing boats and even a floating sauna! To chill, you can go jump in the sea under the midnight sun!
Housebythesea.no
An incredible view, a terrific location and innovative architecture – this combination makes the three holiday units offered by House by the Sea quite unique. It's an exceptional way to combine unusual accommodation with a stunning scenic experience.
House by the Sea is situated on Husøya, the main island of the Træna archipelago. Each unit enjoys a great view of Trænstaven, the island's iconic mountain. Depending on the season, each of our three cabins enjoys a view of the midnight sun, autumn storm or the northern lights.
Tip: A short ride on the local shuttle boat takes you to the neighbouring island of Sanna, which offers some of Norway's finest hiking. You can also take the shuttle boat for a day excursion to the islands of Sandøy, Holmen or Selvær.
Helgeland Havhus – holiday house on a raft!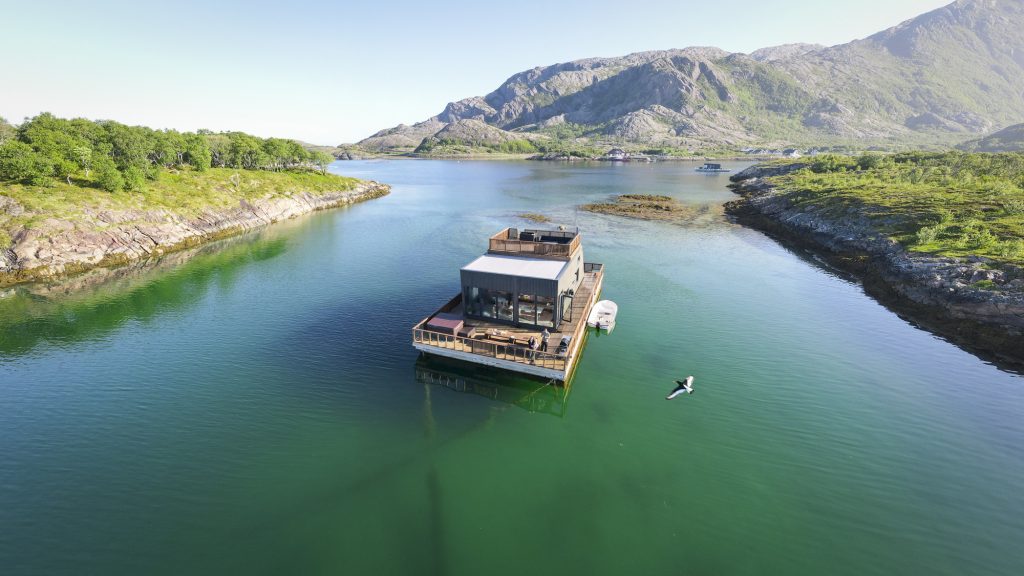 Kristoffer Møllevik / Visit Helgeland
Imagine watching the summer sunset while enjoying a glass of wine or a good drink, sitting in a Jacuzzi on floating raft. The moment can hardly be more magical! You can experience this and more on Tomma, a beautiful island with chalk-white beaches and high mountains that is just a short ferry ride from the village of Nesna.
These stylish sea-houses are built on rafts anchored at secluded spots amidst the beautiful islets and skerries. The smallest house measures 25 m2, has three beds and is perched on its own 90-m2 raft. The other is much larger, measuring 75 m2 , with three bedrooms and an alcove with additional beds, for 12 beds total; that raft is 204 m2. Both houses have large panoramic windows, bed linen, towels, a Jacuzzi, and a boat. The largest unit also has a roof terrace.
Tip: Rent a kayak and explore the sheltered waters between the islets around Tomma.
Stay in an Arctic Dome on Ylvingen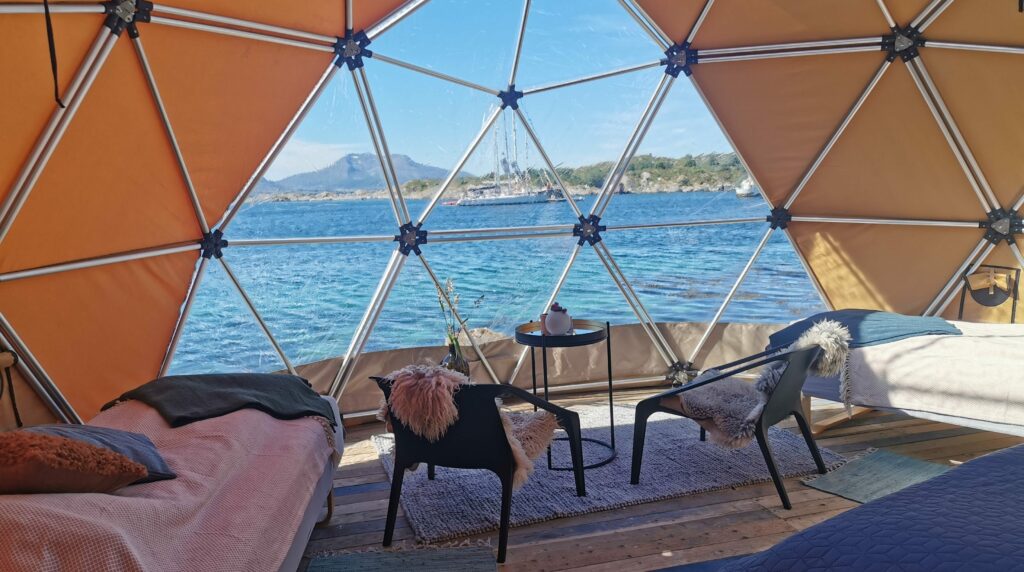 Would you like an unforgettable experience of the midnight sun shining over the sea? Then head for the island of Ylvingen in Vega municipality. You can stay in "Himmelhiet", an Arctic Dome equipped with all the amenities you need. Here you can fall asleep to the sound of waves washing the rocky shore below, with the midnight sun for your night-light!
Comfortable mattresses, warm duvets and lush pillows ensure you a good night's sleep. After sweet dreams close to the sea, enjoy your view of Ylvingen and the activity of the islanders. You can opt to have breakfast brought to your room, or have your first meal of the day in the restaurant, at Himmelblå Brygge.
Lovund Hotel – exquisite architecture and views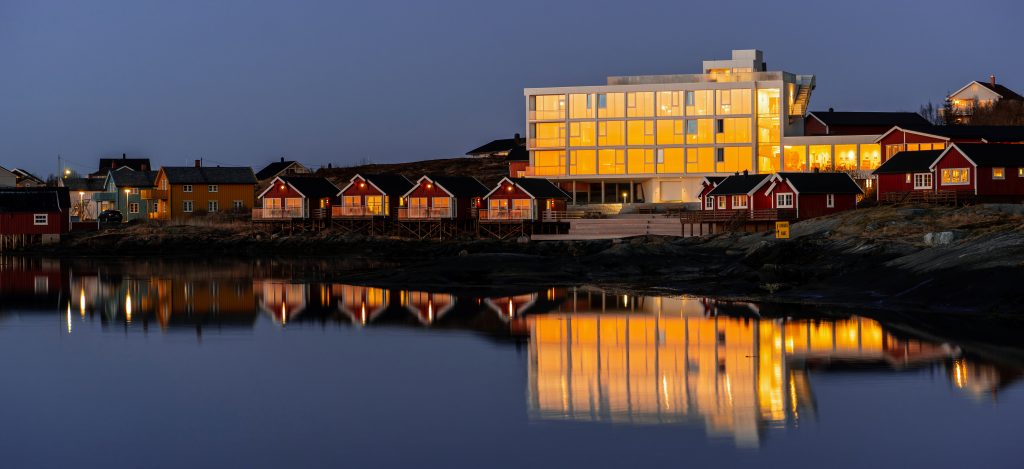 Simon Fossheim/visithelgeland
Lovund itself is a beautiful island, and the architecture of Lovund Hotel does honour to its surroundings. Panoramic windows seem to bring the sea and sky and island scenery right inside! From your bed you can peer out over the sea and watch the sunset. The hotel's restaurant proudly serves delicious dishes prepared from the day's catch and the best local ingredients.
Tip: Hjørnerommet i 3. etasje har en utsikt som gjør det vanskelig å forlate rommet. Takterrassen er også å anbefale på en finværsdag!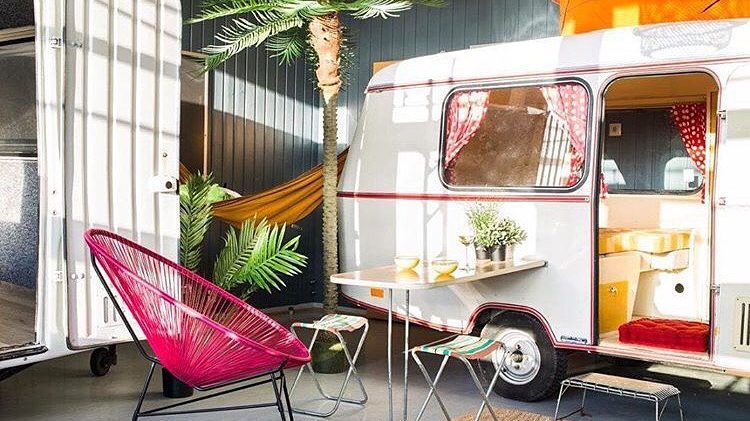 Kathrine Sørgård / Myken Seng og Suppe
Myken is a small fishing community far from the mainland. The islands of this archipelago have no car traffic – in fact, the main island has less than one kilometre of road. Myken invites you to experience its island scenery, the ever-changing sea, and the midnight sun.
The accommodation offered here is unique and exciting. As a guest, you're invited to stay in one of the vintage caravans parked inside the old school library. Each caravan has an individual design, and its patio is equipped with deck chairs, palm trees and coloured lights. Or maybe you prefer more glamorous camping? In that case, you can stay in a spacious tent that has excellent beds, carpets and even chandeliers. In the café, your friendly hosts serve generous portions of hearty food.
Tip: At Myken, you should definitely consider a visit to the world's first Arctic whisky distillery. Enjoy a guided tour with tasting.
Vega Havhotell – a unique landscape and cultural histor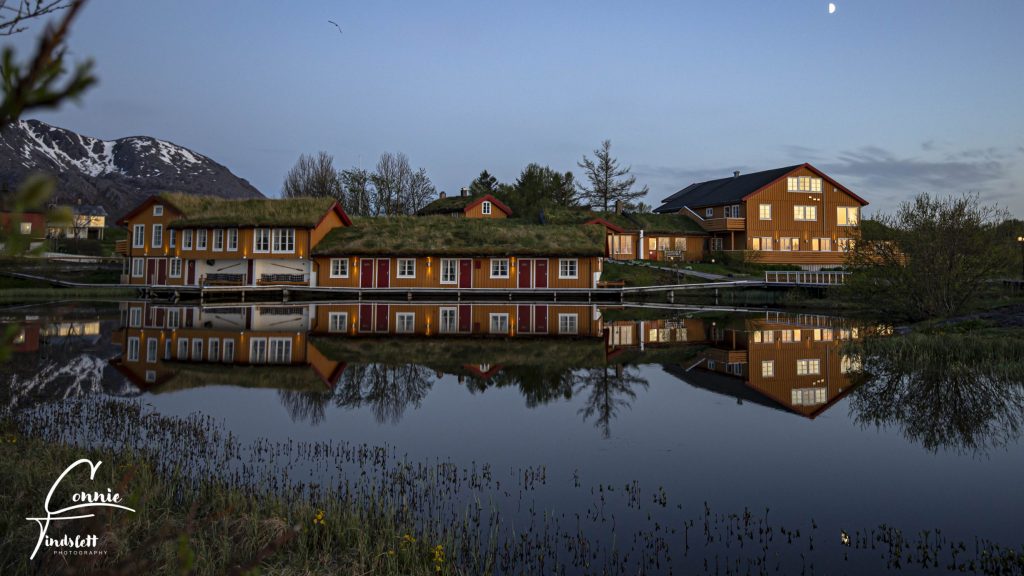 Connie Tindslett
Vega Havhotell is situated in beautiful natural surroundings on the World Heritage Island Vega. Nestled between forest, mountains and sea, the hotel offers first-class accommodation. The friendly hosts offer great dining experiences, and are eager to point their guests toward scenic experiences, outdoor adventures, and insights into their islands' World Heritage cultural history.
The hotel's restaurant is renowned. The chef and kitchen staff take pride in preparing their dishes from the best ingredients from the Vega islands and other sources in the Helgeland region. It's recommended that you book your table (and your room) well in advance for this popular hotel.
Tip: Explore the unique cultural landscape of Vega, visit the World Heritage Centre, and you will soon understand why Vega deserves its place on the UNESCO World Heritage List.