A hiking adventure: Austerdalsisen, an arm of the Svartisen glacier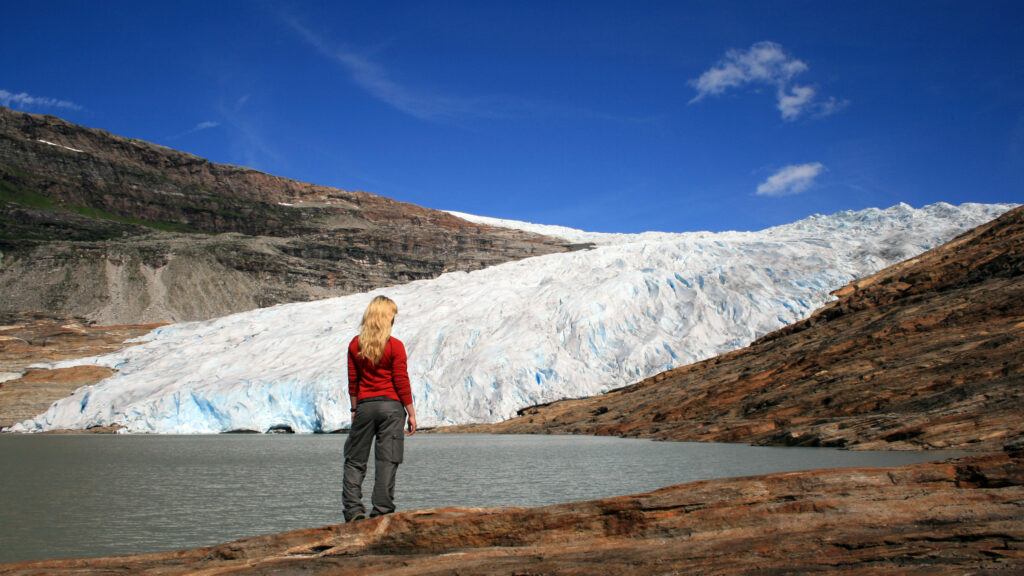 Austerdalsisen is an arm of the Svartisen glacier situated just north of the town Mo i Rana. You can walk along the shore of Svartisvatnet lake and continue up towards the glacier. From the viewpoint you have an excellent view of the glacier arm.
Turinfo
Degree of difficulty: Demanding. Trail is hilly, unmarked and partly overgrown. This trail is unmarked. When there is precipitation, the trail becomes muddy.
Distance one way: About 9 km
Ascent one way: 245 m
Duration one way: 3–4 hours
Trailhead: Limited parking by the barrier to the private gravel road to Svartisvatnet lake. Tight area for turning around.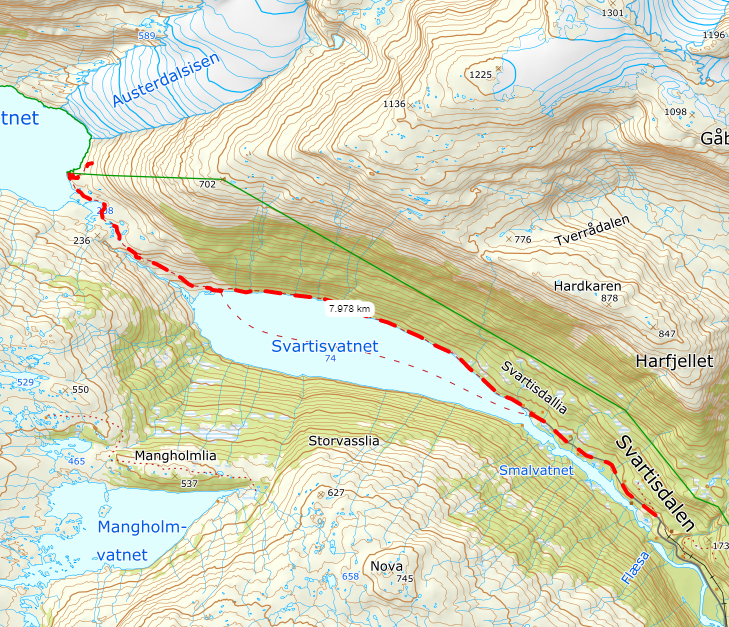 Description of your hike
Start your hike from the parking lot by the barrier to the private road, and walk up the gravel road. You reach Svartisvatnet lake after 1.8 km, then follow the trail along the northern shore of the lake towards Austerdalsisen glacier.
This lake trail begins just below a building with the sign Svartiskiosken (closed) and follows the shore through uneven terrain. Although this 3.65 km trail is unmarked and not cleared regularly, it is easy to find and follow. It winds its way up and down over rocks, through bogs and occasional muddy stretches. If you are in reasonably good shape and used to walking in uneven terrain, it's a short and fairly straightforward hike.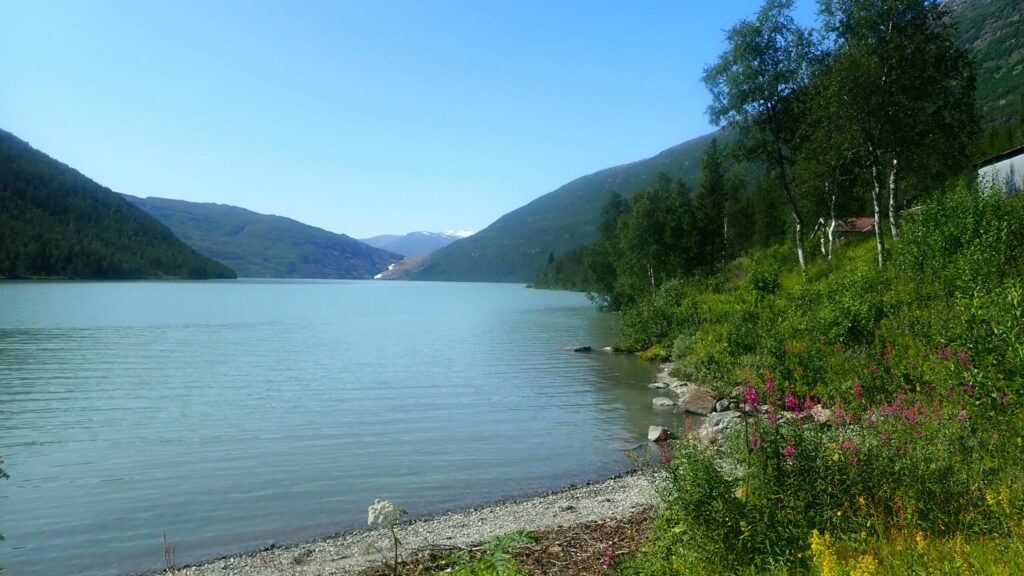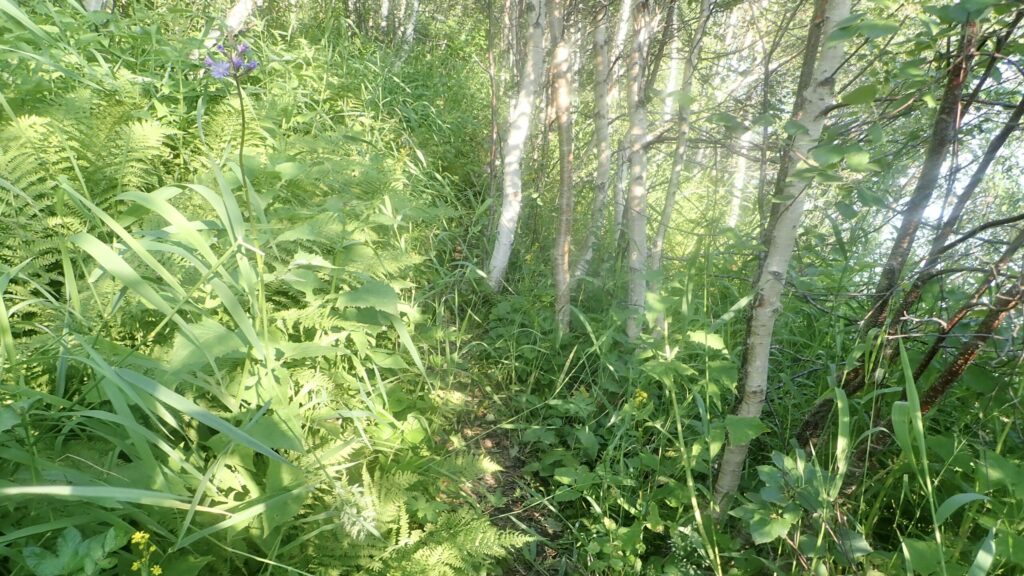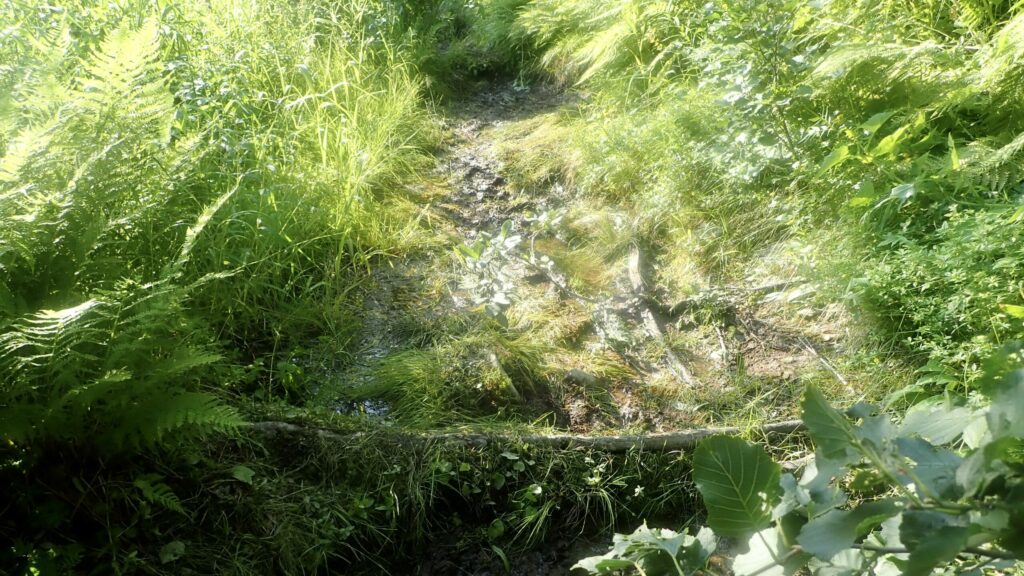 After your walk along the lake shore, follow the marked trail up to Svartisen glacier. This trail continues on bare rock and natural stepping stones along the mighty river that flows from Austerdalsvatnet lake above. On these last few kilometres you will ascend 150 metres.
At Austerdalsvatnet lake, Statskog has built a beautiful lean-to shelter that offers a wonderful view of the glacier arm. This is the perfect spot to enjoy your snack or packed lunch. If you want to approach closer to the glacier, the marked trail continues a little farther, climbing up and down along mountain ledges.
For your own safety, always keep a good distance from the glacier. Large blocks of ice may suddenly shift or break away – with lethal results if you're in the wrong place! A trek onto the glacier requires expert knowledge and specialised equipment: crampons, ice axe, helmet, climbing harness and safety rope. Unless you have all of these and really are an expert, please stay safe and stay away!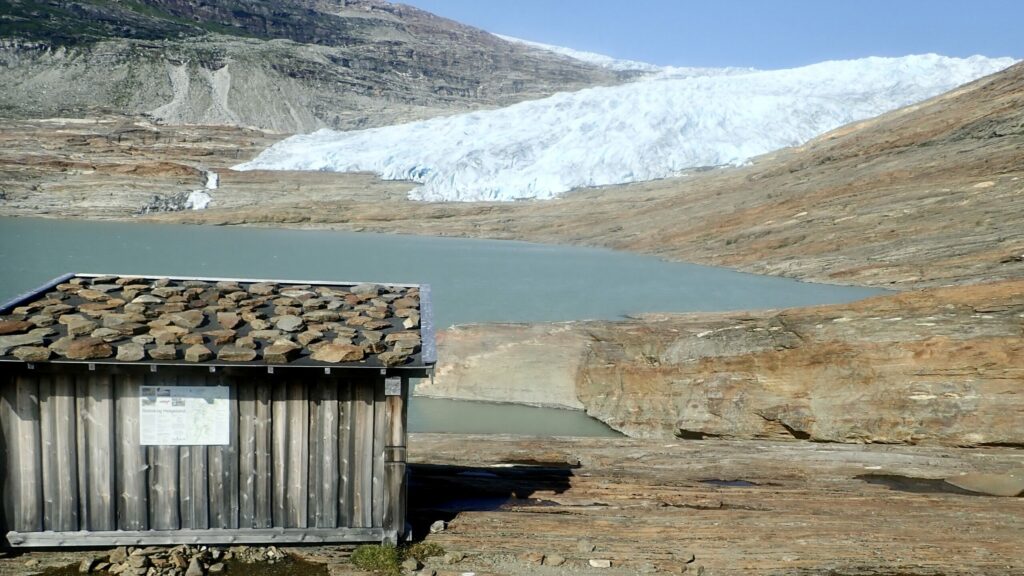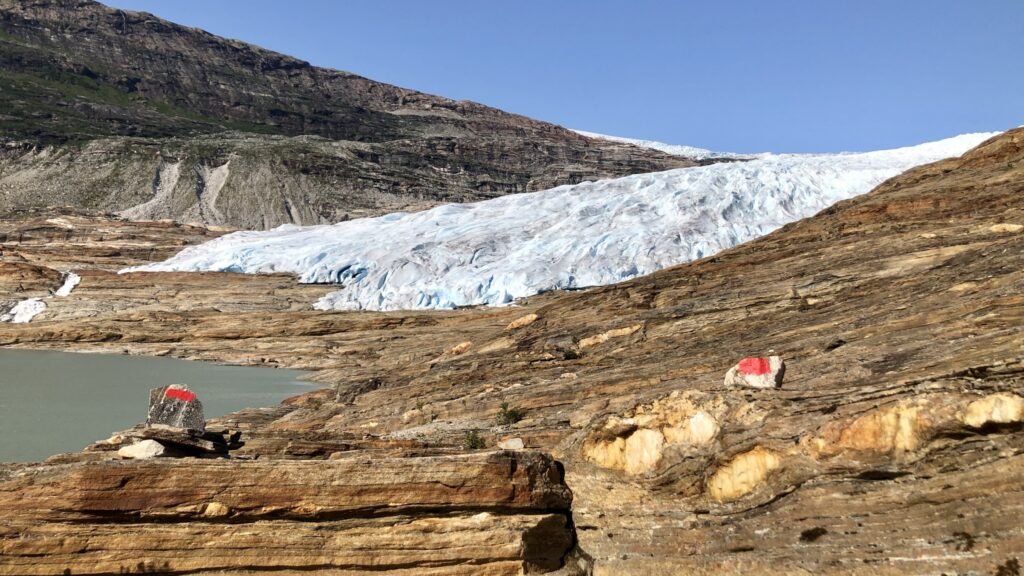 What should you bring?
For the hike up to Austerdalsisen glacier, you should have plenty of food and beverage for a day hike. There is often a cold wind blowing from the glacier, and the weather can change suddenly. We strongly recommend that you check the weather forecast at yr.no and bring some extra warm and waterproof clothing in your backpack. For this hike you need good hiking boots, Gore-Tex or similar. Fortunately you have access to excellent drinking water from the streams that empty into Svartisvatnet lake.
Please note that there is no mobile phone coverage in this area.
Follow the principle of leaving no trace of your visit! Do not light a fire in this pristine area, and make sure you take all your rubbish with you. As there are no toilets or rubbish bins, bring an extra bag or two for your rubbish, as well as for any used toilet paper.
Thank you for helping us preserve the natural beauty of Helgeland!
Contribute to sustainable tourism
Thank you for respecting the local communities, and for helping us preserve the natural beauty of Helgeland!
Please:
Strive to leave no trace of your visit. Bring back all your rubbish, including used toilet paper, and discard it in the nearest rubbish bin.

Plan your toilet visits and use the opportunity when you pass a toilet. In the wilderness, make sure you are not a nuisance to others.

Respect the local wildlife. Keep a good distance from wildlife, livestock and birds. Keep your dog leashed.

Respect private property. Keep a respectful distance from houses and cabins.

Show good boating sense. Keep a good distance from shore and drive at a low speed, especially when you are close to anyone or anything on the water, including birds or animals. Avoid loud and disturbing engine noise.

Be aware that some islands and nature reserves are important nesting sites, and that going ashore is prohibited during the nesting season.

Follow the Norwegian Mountain Code (Fjellvettreglene). Plan your excursion according to the weather forecast, your skills and experience.

Join a guided excursion or consider hiring an experienced guide, especially when you don't have sufficient experience or knowledge to guarantee a safe trip.
Discover more hiking adventure