With its steep and rugged peaks as well as its more gentle and welcoming summits, Helgeland offers ski touring opportunities for adventurers of all abilities. No matter your level of skill or fitness, you're sure to find a summit that suits you here.
Recommended summits
Book your experience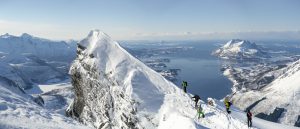 A weekend of high adventure on the lofty peaks!
The picturesque Meløy Alps offers some of the wildest off-piste skiing in Northern Norway!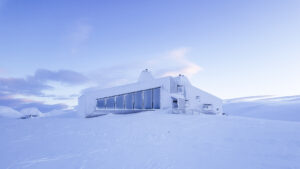 A guided skiing trip up to Rabothytta cabin
You are invited to join us on an excursion to Rabothytta, one of Norway's most impressive cabins. Given its dramatic location, perched at the edge of Okstindbreen glacier at 1200 metres altitude, and its elegant architecture, it is no wonder that this is one of Helgeland's favourite hiking destinations. On clear days your panorama includes several legendary mountains on the Helgeland coast.