Vefsna Lodge
At Vefsna Lodge you will find Emmas Kammers (Emma's Chamber), a restaurant that offers delicious homemade meals for groups of 6–30 people.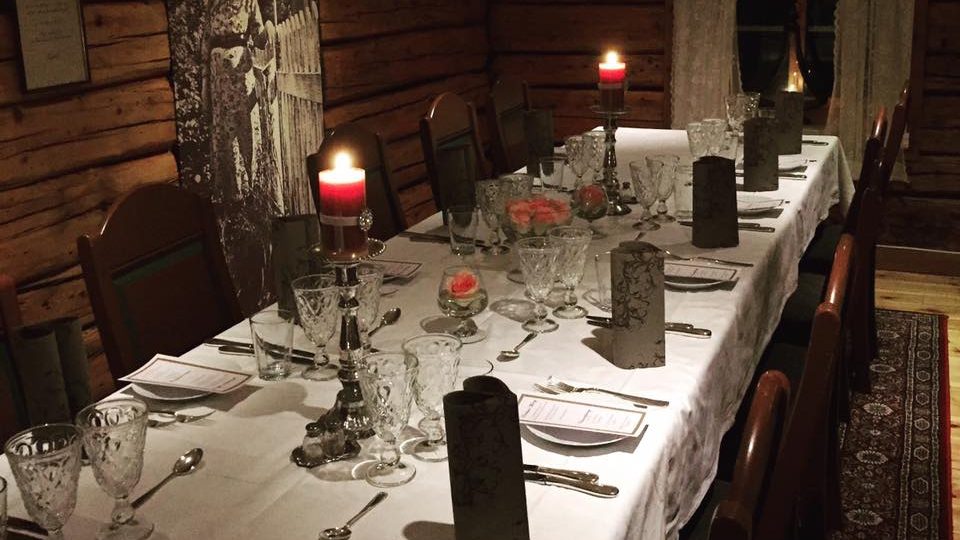 Vefsna Lodge
The farm dates back to 1661 when the land was cleared and part of the longhouse erected. In Emmas Kammers the old carpentry is preserved, lending a very special and authentic ambience to the restaurant. It's the perfect venue in which to gather a group of good friends or colleagues, or family and relatives, for a delicious three-course meal. Vefsna Lodge offers conference facilities for 6–20 people.
Accommodation
Accommodation in single and double rooms is available for 6–7 people.
The rooms on the 2nd floor are newly-renovated, bright and charming. Shared bathroom. The rooms called Emma, Karen and Mikal are double rooms, while Birgith is a single.
Vefsna Lodge is beautifully situated on the Vefsna river in the village of Grane, about 3 km from highway E6. The town of Mosjøen is 30 km north along the E6.
NB! Meals or accommodation at Vefsna Lodge must always be booked in advance.
Vefsna Lodge accepts guests by prior arrangement.
How to get to Vefsna Lodge
Take the E6 about 35 km south from Mosjøen or about 8 km north from Trofors to Grane. Take the E6 and drive about 3 km to the farm on Valryggen.
Takk for at du hjelper oss med å ta vare på naturen og lokalsamfunnene på Helgeland. Takk for at du:
Praktiserer sporløs ferdsel, og tar med avfall og toalettpapir tilbake til nærmeste søppeldunk.
Planlegger toalettbesøk, slik at du får gjort det du må der det ikke er til sjenanse for andre.
Respekterer det lokale dyrelivet, holder hunden i bånd og holder god avstand til både ville og tamme dyr og fugler.
Respekterer privat eiendom, og holder avstand til private hus og hytter.
Viser godt båtvett, holder god avstand til land, lav fart nært andre på vannet, inkludert dyr og fugler, og unngår unødig kjøring som skaper forstyrrende motorstøy.
Respekterer ferdsels- og ilandstigningsforbudet i sjøfuglereservatene i hekketiden.
Følger fjellvettreglene, og planlegger turer etter evne og erfaring.
Leier en erfaren guide på turene der du selv ikke har kunnskapen eller erfaringen som trengs for en trygg tur.