Tour package: Rabothytta with travel, food, and accommodation
Embark on a train journey, pick up your rental car, immerse yourself in local knowledge, culture, and local cuisine, and enjoy a mountain hike to Rabothytta in Okstindan. Here, you can get your train ticket, rental car, accommodation at Rabothytta, and three days' worth of food, all in one package.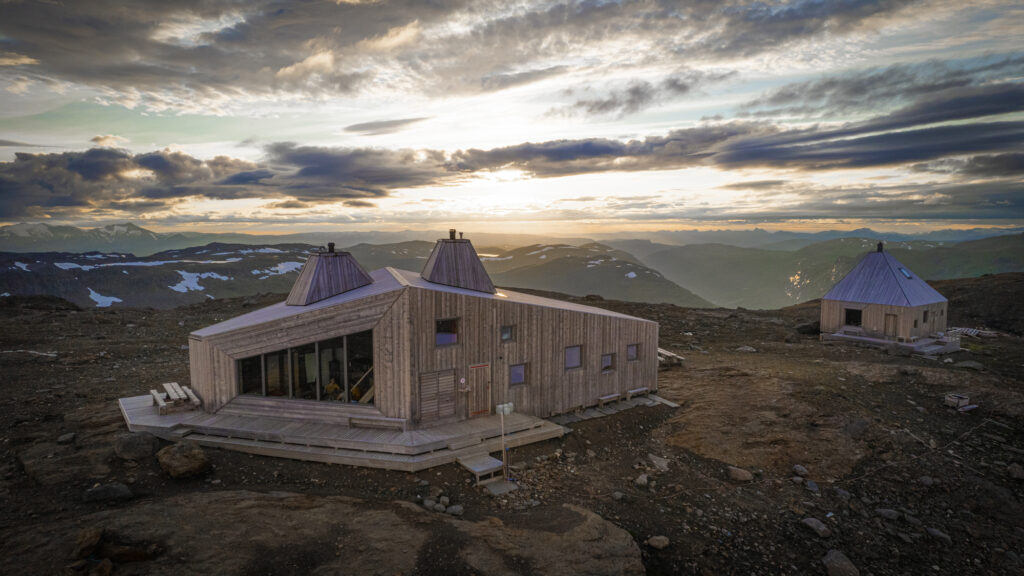 Broadstone / Visit Helgeland
Rabothytta has been crowned Norway's most beautiful unstaffed cabin by the Norwegian Trekking Association (DNT). It is situated spectacularly at an elevation of 1200 meters above sea level, in the "Roof of Northern Norway," Okstindan, right next to the Okstindbreen glacier. The cabin's impressive and open architecture, combined with the dramatic nature, creates an exceptionally stunning natural experience. Moreover, the hike is relatively easy as there is a road leading all the way up to approximately 700 meters above sea level.
Your journey begins in Trondheim with a splendid train ride along the Nordlandsbanen railway to Bjerka in Hemnes. From the train's premium carriage, you can admire the beautiful scenery outside the window while enjoying the journey from Trøndelag to Northern Norway and Helgeland.
At Bjerka station, your rental car awaits nearby, and with it, it's just a short drive to Korgen to pick up your trail food before driving up Leirskardalen to the starting point of the mountain hike to Rabothytta. The hike to the cabin takes about two hours at a comfortable pace and mostly follows a well-maintained trail, with a shorter section passing through a rocky terrain. You can find more information about the hike here.
The food you receive consists of local cuisine, packaged to be easy to prepare at the cabin. The package includes lunch, dinner, and breakfast for the entire trip.
With this package local culinary culture, beautiful architecture, and breathtaking nature merge into an unbeatable combination.
Contact
Go to booking
Miljøsertifisert
Price and Package Inclusions
The price for the 3-day package is 4960 Norwegian kroner per person, based on a minimum of two people.
The price includes:
– Train journey in the premium carriage from Trondheim/Værnes to Bjerka
– Rental car for the round trip to Rabothytta
– Two nights' accommodation at Rabothytta
– Two dinners, three lunches, and two breakfasts
If three to four people share a car or travel together, each person will receive a discount of 500 kroner.
Optional add-ons:
– Rental of a sleeping bag liner: 400 kroner per person.
– Private room at the cabin: 1,200 kroner per person for groups of up to four people, or 600 kroner per person for groups of more than four people.
Contribute to sustainable tourism
Thank you for respecting the local communities, and for helping us preserve the natural beauty of Helgeland!
Please:
Strive to leave no trace of your visit. Bring back all your rubbish, including used toilet paper, and discard it in the nearest rubbish bin.

Plan your toilet visits and use the opportunity when you pass a toilet. In the wilderness, make sure you are not a nuisance to others.

Respect the local wildlife. Keep a good distance from wildlife, livestock and birds. Keep your dog leashed.

Respect private property. Keep a respectful distance from houses and cabins.

Show good boating sense. Keep a good distance from shore and drive at a low speed, especially when you are close to anyone or anything on the water, including birds or animals. Avoid loud and disturbing engine noise.

Be aware that some islands and nature reserves are important nesting sites, and that going ashore is prohibited during the nesting season.

Follow the Norwegian Mountain Code (Fjellvettreglene). Plan your excursion according to the weather forecast, your skills and experience.

Join a guided excursion or consider hiring an experienced guide, especially when you don't have sufficient experience or knowledge to guarantee a safe trip.