The Seven Sisters - transport and guided hikes
We've made your Seven Sisters hike easier by offering a convenient bus service from the Sandnessjøen town centre directly to the trailheads, and back again. Parking is rather limited in the small parking lots at the Seven Sisters' trailheads. By taking the direct shuttle bus you avoid this problem completely, so you can concentrate fully on your hike. You can also join one of our expert guides for guided summit hikes to the Seven Sisters (De syv søstre).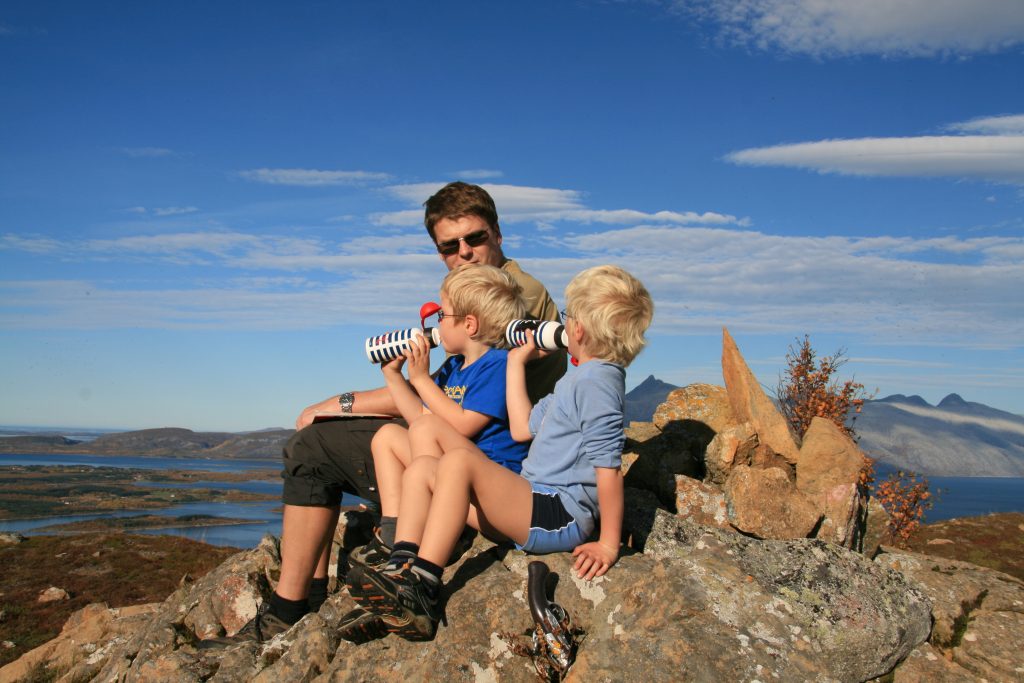 Sigrid Haarberg
Transport to the Seven Sisters mountains
Our shuttle bus departs several times a day from Hotel Scandic Syv Søstre in Sandnessjøen, and from the caravan parking lot by the town's guest harbour. You can choose the departure that suits you best and book a seat on the bus that leaves the hotel in the morning at 8, 9 or 10 am, or in the afternoon at 1:30, 3:30 or 5:30 pm. The bus drives via the caravan park and takes you to the trailhead at the foot of one of the Seven Sisters. The bus ride takes about 30 minutes.
The return bus from the Seven Sisters to Sandnessjøen leaves shortly after arrival. To secure your bus seat, we recommended that you book your ticket a bit in advance of your mountain hike.
The shuttle bus runs Monday through Saturday, from Monday 21 May until Tuesday 29 August. You can book the departure and return time of your choice.
Price: NOK 150 one way, and NOK 250 round trip. Children under 12 are free.
Guided summit hike on one or several of the Seven Sisters
Each guided hike will be adapted to the wishes and natural pace of the group. You decided whether you want to hike at a brisk pace and ascend several peaks, or to hike just one of the summits at a relaxed pace. We meet up at the Hotel Scandic Syv Søstre in Sandnessjøen at 8 am, and the excursion takes about 7 hours.
Our guided mountain hikes must be booked several days in advance. These guided hikes are offered every Wednesday and Friday, from Wednesday 30 June and through the end of July.
Your guide will decide which peaks of the Seven Sisters we hike, depending on the weather, conditions in the mountains, and the group. On each hike there is a max. limit of 8 people. All of the guides are local experts who know these majestic mountains like the back of their hand. They are eager to share this magnificent mountain wilderness with you, and willingly share their knowledge and good stories.
Price: NOK 1295, including transport, guide, water and snacks.
Guided tour up the mountain range The Seven Sisters must be booked a couple of days in advance, while the shuttle bus must be booked no later than the day before departure. If there are too few registered, the trips are canceled and if it is full, there is of course no more capacity when you could have imagined the trip.
Contribute to sustainable tourism
Thank you for respecting the local communities, and for helping us preserve the natural beauty of Helgeland!
Please:
Strive to leave no trace of your visit. Bring back all your rubbish, including used toilet paper, and discard it in the nearest rubbish bin.

Plan your toilet visits and use the opportunity when you pass a toilet. In the wilderness, make sure you are not a nuisance to others.

Respect the local wildlife. Keep a good distance from wildlife, livestock and birds. Keep your dog leashed.

Respect private property. Keep a respectful distance from houses and cabins.

Show good boating sense. Keep a good distance from shore and drive at a low speed, especially when you are close to anyone or anything on the water, including birds or animals. Avoid loud and disturbing engine noise.

Be aware that some islands and nature reserves are important nesting sites, and that going ashore is prohibited during the nesting season.

Follow the Norwegian Mountain Code (Fjellvettreglene). Plan your excursion according to the weather forecast, your skills and experience.

Join a guided excursion or consider hiring an experienced guide, especially when you don't have sufficient experience or knowledge to guarantee a safe trip.