Rana Spesialsport - kayaking experiences throughout Helgeland
Rana Spesialsport takes you on paddle trips all over Helgeland. Whether you are few or many, experienced or just starting out, Rana Spesialsport designs each trip to suit your preferences and skill level.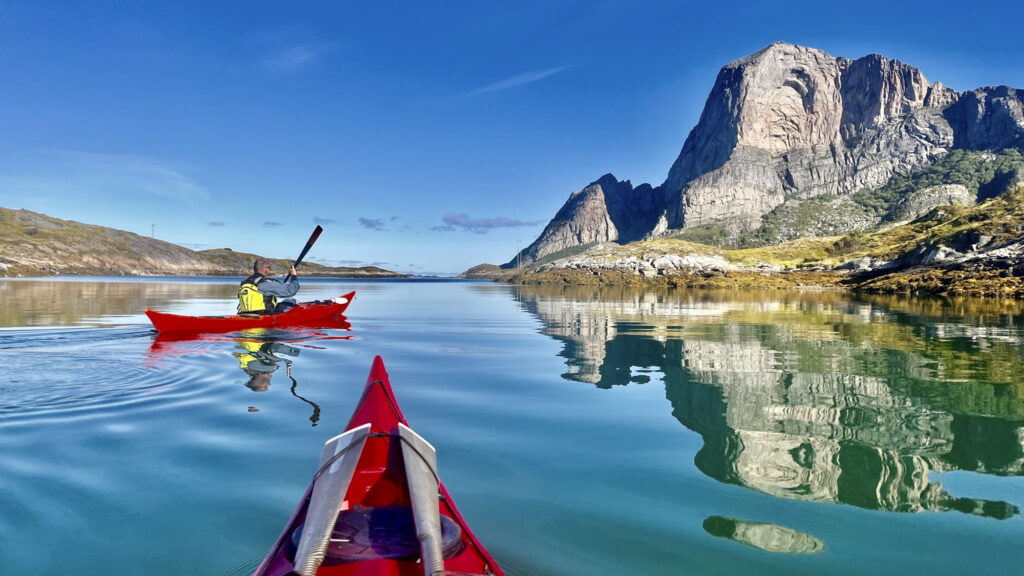 Vegard Olsen
At Rana Spesialsport you can choose between a variety of courses, wave play, long expeditions, or short leisurely trips on flat sea into the sunset. And if you're an experienced paddler who doesn't require a guide or instructor, you can rent top-of-the-line paddling equipment, suitable for all types of paddling activities.
Guided paddle tours
Rana Spesialsport has several trips you can join, throughout the summer
– Guided paddle trips with regular departures throughout the summer from Mo i Rana, Mosjøen, Nesna, Herøy and Seløy
– Guided paddle trips at Træna during the Træna Festival in July
– Guided paddle trips during the Helgeland paddle symposium at Herøy in June
– Guided paddle trips along the entire Helgeland coast on request throughout the summer.
Courses
– NPF intro course on demand
– NPF basic course with scheduled dates at Herøy, Træna, Seløy, in Mosjøen and in Mo i Rana
– NPF technique course with scheduled dates at Herøy, Seløy, Træna, Nesna/Tomma and Onøy
– NPF activity leader course with set dates at Herøy
– Refreshment and training for the paddling season, every Tuesday in April and May in Mo i Rana
– Eskimo roller course with fixed dates at Herøy and Træna
– Refresher course rescue techniques with scheduled dates Mo i Rana
If you prefer a customized course tailored to your specific needs and preferences, we offer personalized options for individuals or groups. Please contact Rana Spesialsport for pricing and availability.
Rent a cayak
Rana Spesialsport rents out kayaks at Yttervik just outside Mo i Rana, and at Træna during the Træna Festival. They have a good selection of kayaks and paddling equipment, but we recommend that you get in touch well in advance to be sure that you get to rent exactly what you want.
Other activities
Rana Spesialsport is dedicated to delivering unforgettable experiences that will leave you with goosebumps. In addition to having a broad selection of kayaking equipment, you can experience exhilarating climbs, abseiling, glacier walks, glacier climbs, and caving expeditions.
Some events only run in certain locations at certain times, but the vast majority of tours and courses are available on request for small or large groups. Although the high season is between May and September, the activities are available by request throughout Helgeland in all seasons.
Contribute to sustainable tourism
Thank you for respecting the local communities, and for helping us preserve the natural beauty of Helgeland!
Please:
Strive to leave no trace of your visit. Bring back all your rubbish, including used toilet paper, and discard it in the nearest rubbish bin.

Plan your toilet visits and use the opportunity when you pass a toilet. In the wilderness, make sure you are not a nuisance to others.

Respect the local wildlife. Keep a good distance from wildlife, livestock and birds. Keep your dog leashed.

Respect private property. Keep a respectful distance from houses and cabins.

Show good boating sense. Keep a good distance from shore and drive at a low speed, especially when you are close to anyone or anything on the water, including birds or animals. Avoid loud and disturbing engine noise.

Be aware that some islands and nature reserves are important nesting sites, and that going ashore is prohibited during the nesting season.

Follow the Norwegian Mountain Code (Fjellvettreglene). Plan your excursion according to the weather forecast, your skills and experience.

Join a guided excursion or consider hiring an experienced guide, especially when you don't have sufficient experience or knowledge to guarantee a safe trip.