Lovund Skyss - Guided boat trips along the Helgeland coast
Lovund Skyss offers excursions to hidden gems as well as popular destinations along the Helgeland coast. Join them for memorable journeys amongst the myriad of islands, islets and skerries along one of the most beautiful coastlines in the world.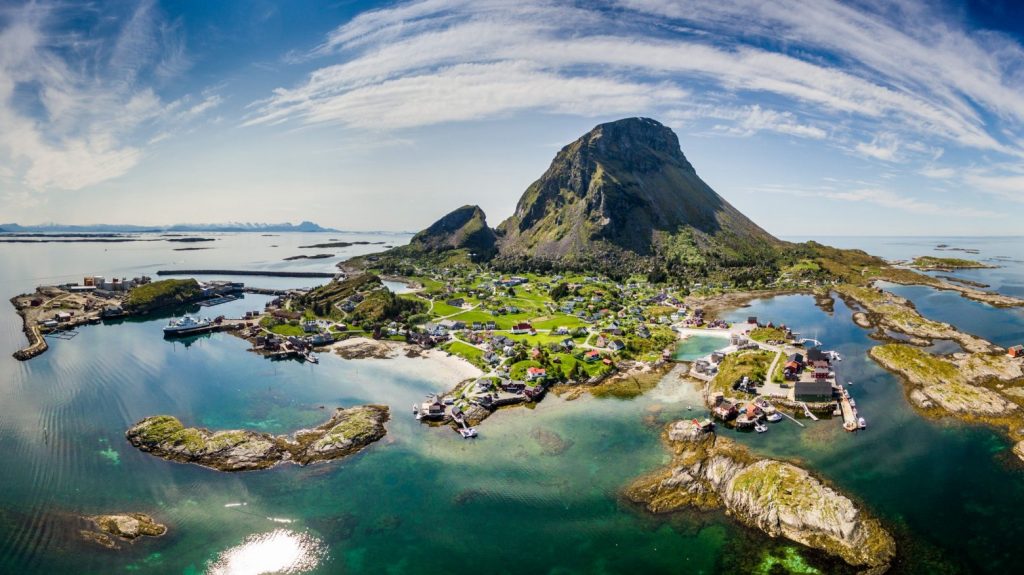 Hans Petter Sørensen / Far Out Focus
With Lovund Skyss, you can experience a sightseeing safari to Lovund, with a two-course lunch at Lovund Hotel, as well as a guided visit to the puffin colony.
The magnificent Nordfjord is sometimes compared to the Geirangerfjord in Western Norway. On our excursion there, we cross the Arctic Circle, enjoy a view of Svartisen, the second-largest glacier on the Norwegian mainland, and experience the beautiful 300-metre-high Nattmoråga waterfall up close.
Lovund Skyss can also take you on a deep-sea fishing trip, on which we can try our luck in some of the best fishing spots and hear stories about fishermen, their heritage and the old fishing villages.
A pub-to-pub cruise
One of Lovund Skyss' most popular trips is the pub-to-pub cruise that departs from Sandnessjøen on Saturdays during the summer season. Enjoy the evening as we travel from place to place and experience some of the most distinctive pubs along the NB! Reservations required.
Tailored group excursions
Lovund Skyss would be happy to tailor a varied boat trip along the entire Helgeland coast or any portion of it. Let us know your wishes, and we'll make your Helgeland dream voyage come true.
Several boat types are available, suitable for groups ranging from a dozen to almost 100 people. Each boat offers great comfort, with an option of dining on board. The largest boat is licensed to serve alcohol.
In collaboration with their experienced partners, Lovund Skyss can design an all-inclusive voyage with accommodation, dining, transport, expert guides, and a range of onshore and offshore activities. Please check out the website for more information.
Torolv Kveldulvsons gate, Alstahaug
Meetings or trips can be arranged in advance where you agree on a time and place by email. Lovund Skyss offers experiences on the entire Helgeland coast and has a base in Sandnessjøen as a natural starting point for boat trips. If you want to find the office itself, it is located by the speedboat quay in Sandnessjøen where their boats leave from. From the pedestrian street in Sandnessjøen you enter their office in Fjord Brygge at the address Torolv Kveldulvsons gt 39, 8800 Sandnessjøen. If you are traveling and there is an urgent need for an answer, you can call their 24-hour hotline 99 16 65 22.
Vær og klær for Helgeland
Været på Helgeland kan variere mye, og på sommeren kan temperaturen være alt fra 15 til 30 grader, og regnet kan gjerne komme og gå i «ærlinger», eller «byger» som det heter sørpå. Vi anbefaler at du pakker både allværsjakke og badeklær, fjellsko og sandaler, så du er klar for det meste.
Om vinteren varierer temperaturen gjerne fra +5 til minus 15. Hvis du skal være mye ute, er ullundertøy og vindtette klær dine beste venner. Kle deg etter trelagsprinsippet med et innerlag, mellomlag og ytterlag. Tykk lue og tykke hansker eller votter er spesielt anbefalt hvis du skal på være ute med lavt aktivitetsnivå, for eksempel hvis du skal se på nordlyset.
Takk for at du hjelper oss med å ta vare på naturen og lokalsamfunnene på Helgeland.
Takk for at du:
Praktiserer sporløs ferdsel, og tar med avfall og toalettpapir tilbake til nærmeste søppeldunk.
Planlegger toalettbesøk, slik at du får gjort det du må der det ikke er til sjenanse for andre.
Respekterer det lokale dyrelivet, holder hunden i bånd og holder god avstand til både ville og tamme dyr og fugler.
Respekterer privat eiendom, og holder avstand til private hus og hytter.
Viser godt båt-vett, holder god avstand til land, lav fart nært andre på vannet, inkludert dyr og fugler, og unngår unødig kjøring som skaper forstyrrende motorstøy.
Respekterer ferdsels- og ilandstigningsforbudet i sjøfuglereservatene i hekketiden.
Følger fjellvettreglene, og planlegger turer etter evne og erfaring.
Leier en erfaren guide på turene der du selv ikke har kunnskapen eller erfaringen som trengs for en trygg tur.