Helgeland Kayak - Guided kayak trips
With Helgeland Kayak you can go on guided tours, attend courses or rent a kayak and go out on your own. If you prefer to stay ashore, you can join a guided hike in the mountains. Helgeland Kayak is based in Mo i Rana and on the island of Tomma outside Nesna.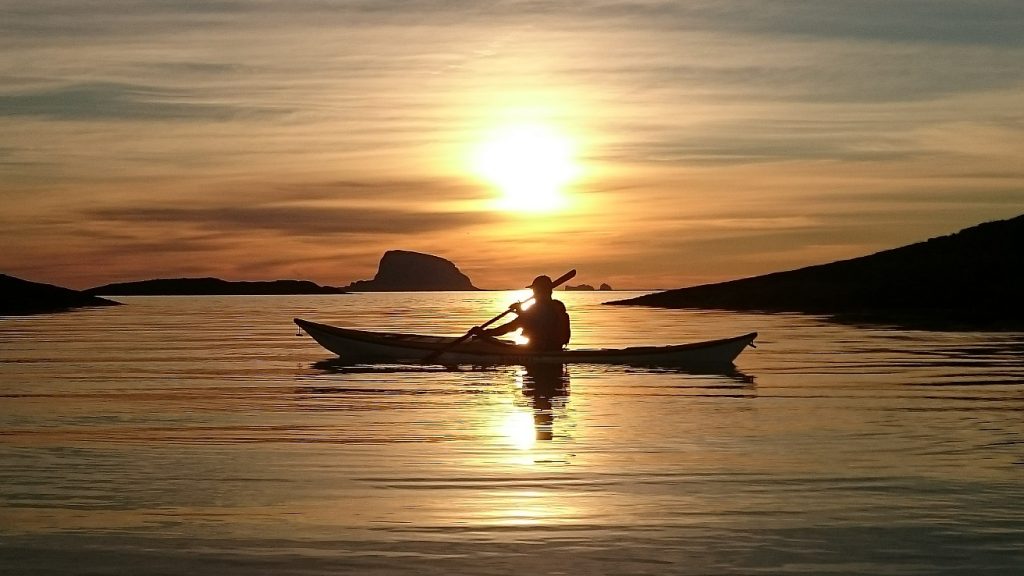 Helgeland Kajakk
With a kayak along the Helgeland coast, you get nature experiences you will soon forget. You can paddle between small islands and islets, land on chalk-white beaches and enjoy the sound of a bustling bird life. Starting from Tomma outside Nesna, you have great opportunities to paddle with the sea eagle sailing in the air above you.
The area offers great variety and challenge whether you are a beginner or an experienced paddler. You can paddle in sheltered waters or feel the forces of the ocean. Why not enjoy the sunset to the sound of crashing waves and the scent of salt water?
Guided trips from Mo i Rana
You are invited to join Helgeland Kayak on a guided excursion near Mo i Rana, where you'll get to go kayaking on the green glacial waters of Langvatnet lake or on the idyllic Raudvatnet lake.
The special colour of the lake is due to the meltwater from Svartisen glacier, which flows into the Glomåga river, and its delta feeds into the lake. Here is rich birdlife. In places the lake is shallow, the floor of the lake is sandy and it actually has several fine sandy beaches. On our excursion you will see the dazzling ice of Svartisen, the second-largest glacier on the Norwegian mainland, in the distance. At some point we'll go ashore to stretch our legs and enjoy the food and drink that we've brought.
You are free to use your own kayak and equipment, or you can rent what you need. No prior experience is necessary – and you are welcome to bring children who are at least 12 years of age. The guides will provide instruction in both safety and technique, and they will make sure all participants have a safe adventure.
This excursion, which is offered from when the lake ice melts in May and until the autumn, lasts for about three hours. By the way, Langvatnet lake is on the way to another spectacular attraction, the natural marble formations called Marmorslottet (the marble castle).
The place where we start our excursion is only a 15-minute drive from the town centre of Mo i Rana.
How to find Helgeland Kayak
Helgeland Kayak has two bases, one on Tomma and one in Mo i Rana. You will receive information about the place of attendance when you sign up for a trip or course.
Tomma is an island off Nesna. Nesna is located along FV17 Kystriksveien, about 1.5 hours from Sandnessjøen and about 1 hour from Mo i Rana. There is a ferry several times a day from Nesna to Tomma.
Mo i Rana is located in the heart of the Ranfjord and you can travel here by road, rail or by plane. The E6 passes through the city. From Bodø in the north it is about 230 km, from Mosjøen in the south it is about 88 km and from Trondheim about 480 km. If you come from Sweden along the E12, it is only 40 km from the Swedish border.
The temperature in the water is low most of the year, and we recommend that you think about safety when paddling a kayak. Most people choose to paddle in a dry suit or wetsuit.
The west side of Tomma is popular for fricampers. There are no adapted campsites, so remember and clean up after yourself.
At the convenience store at Tomma, you can buy the food you need.
Takk for at du hjelper oss med å ta vare på naturen og lokalsamfunnene på Helgeland. Takk for at du:
Praktiserer sporløs ferdsel, og tar med avfall og toalettpapir
tilbake til nærmeste søppeldunk.
Planlegger toalettbesøk, slik at du får gjort det du må der det ikke er til sjenanse for andre.
Respekterer det lokale dyrelivet, holder hunden i bånd og holder god avstand til både ville og tamme dyr og fugler.
Respekterer privat eiendom, og holder avstand til private hus og
hytter.
Viser godt båt-vett, holder god avstand til land, lav fart nært andre på vannet, inkludert dyr og fugler, og unngår unødig kjøring som skaper forstyrrende motorstøy.
Respekterer ferdsels- og ilandstigningsforbudet i
sjøfuglereservatene i hekketiden.
Følger fjellvettreglene, og planlegger turer etter evne og erfaring.
Leier en erfaren guide på turene der du selv ikke har kunnskapen eller erfaringen som trengs for en trygg tur.