Kayaking courses, guided kayaking trips and kayak rentals in Mo i Rana
You can join a guided kayaking excursion on the beautiful lake of Langvatnet. Helgeland Kajakk also offers kayak rental and courses designed to help you master good techniques and enjoy safe kayaking adventures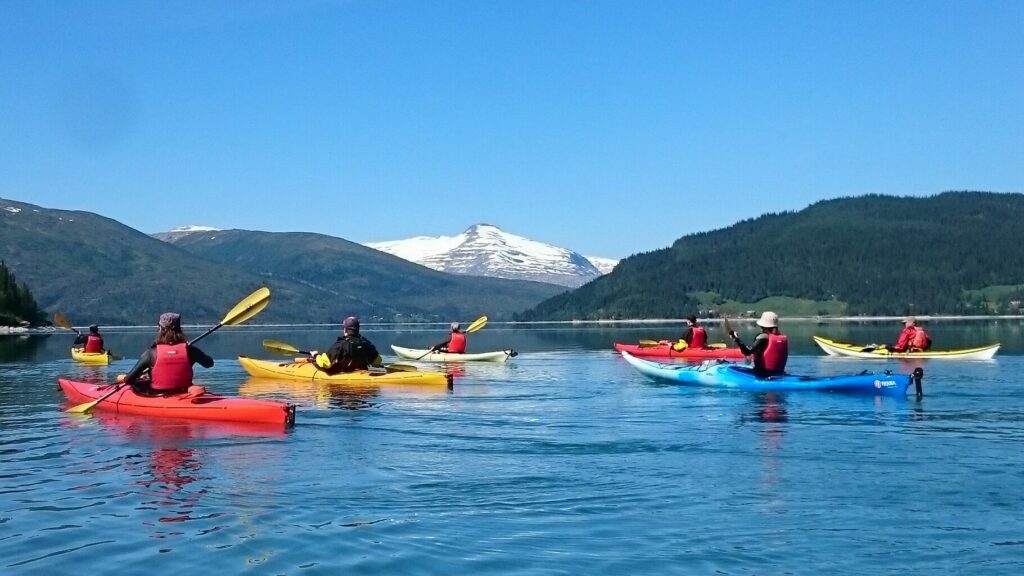 Langvatnet is a beautiful green lake. It is filled with meltwater from the Svartisen glacier, carried into the lake by the Glomåga river. The river delta and lake are known for their rich birdlife. Much of the lake is shallow and it has several nice sandy beaches.
On our journey you can see in the distance the dazzling snow and ice of Svartisen, the second-largest glacier on the Norwegian mainland.
It's good to stretch our legs, so we'll go ashore and enjoy the food and drink we brought.
You rent all the equipment you need from us or bring your own. And you don't need prior kayaking experience. Our expert guides will instruct you in safety guidelines and proper kayaking techniques, and keep you safe throughout the day's adventures.
Our three-hour kayaking excursion on Langvatnet is offered from May, when the lake ice melts, until late autumn. You are welcome to bring children who are at least 12 years old.
Introductory course and basic course in kayaking
Helgeland Kajakk offers basic as well as introductory courses in kayaking. These courses are offered in Mo i Rana and on Tomma, an island near the village of Nesna. The basic courses are held on pre-announced dates, while the introductory courses are offered whenever there is sufficient demand. The price of the course includes the use of a kayak and all necessary equipment, and at the conclusion of the course a "Wet Card" (Våtkort) from the Norwegian Kayaking and Canoeing Association, NPF.
Rent a kayak
You can also rent kayaks, both at Tomma and in Mo i Rana. Helgeland Kajakk offers an excellent selection of kayaks from Hasle, Prijon, Boreal, Seabird and other quality brands. The models rang from extra stable kayaks for beginners to swift, sleek kayaks for people with much more experience.
Mer informasjon og påmelding
Tours must be booked at least one day in advance by phone +47 95 17 39 87 or e-mail: helgelandkajakk@gmail.com
When you register, we'll agree when and where to meet up.
Be mindful that water temperatures are low year round, so even during the summer we advise you to wear a thin layer of woollen or thermal clothing under your dry suit. In the winter, you should have an extra layer of wool or fleece.
Kayaking demands a lot of energy. It's important that you bring nourishing snacks and plenty of water or other beverage.
When you sign up for our kayaking excursions or courses, we'll give you m detailed list of what to bring.
Contribute to sustainable tourism
Thank you for respecting the local communities, and for helping us preserve the natural beauty of Helgeland!
Please:
Strive to leave no trace of your visit. Bring back all your rubbish, including used toilet paper, and discard it in the nearest rubbish bin.
Plan your toilet visits and use the opportunity when you pass a toilet. In the wilderness, make sure you are not a nuisance to others.
Respect the local wildlife. Keep a good distance from wildlife, livestock and birds. Keep your dog leashed.
Respect private property. Keep a respectful distance from houses and cabins.
Show good boating sense. Keep a good distance from shore and drive at a low speed, especially when you are close to anyone or anything on the water, including birds or animals. Avoid loud and disturbing engine noise. Be aware that some islands and nature reserves are important nesting sites, and that going ashore is prohibited during the nesting season.
Follow the Norwegian Mountain Code (Fjellvettreglene). Plan your excursion according to the weather forecast, your skills and experience.
Join a guided excursion or consider hiring an experienced guide, especially when you don't have sufficient experience or knowledge to guarantee a safe trip.