Grønøy Gjestgiveri - a charming old inn
This charming inn was built in the late 17th century. You can really sense history in the walls of this authentic Nordland house. Whether you're staying a few nights or just visiting for a hearty meal, you will really enjoy your time on the beautiful island of Grønøy.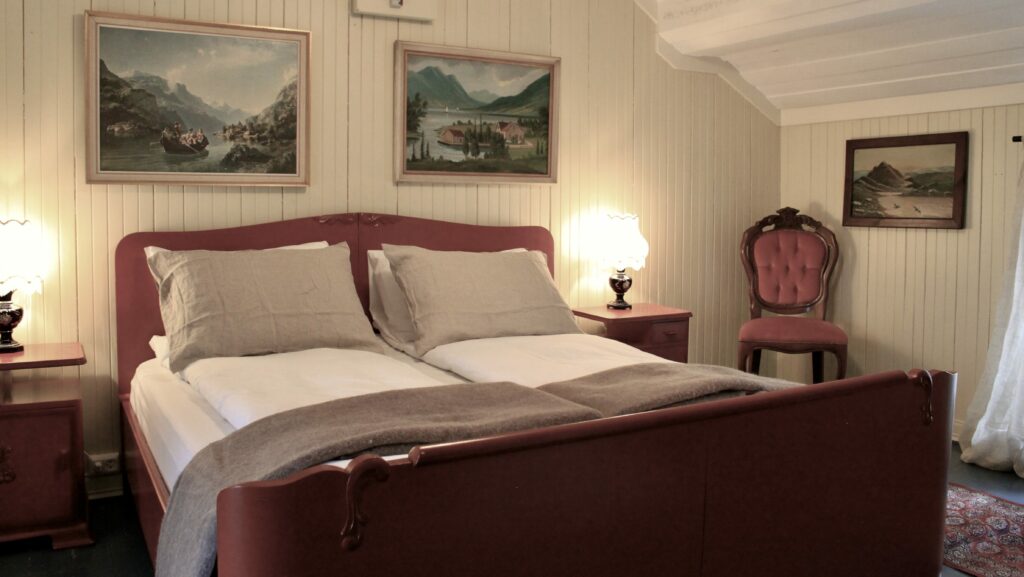 Patrik Tindre Tegnander
In the 1700s, Grønøy ("the green island") was an important trading post. From 1914 to 1957, the Norwegian coastal steamer, Hurtigruta, made regular calls here. Today, people travelling by private boat can dock at the convenient guest quay. Regardless of what time of year you visit, you can explore a scenic island with beautiful beaches. The popular inn, Grønøy Gjestgivery, also features a beautiful garden that attracts the locals as well as visitors.
Accommodation
The inn offers seven rooms in its original Nordland house and the annex. The interior décor and furnishings reflect the inn's long history, and yet each room has its own distinct character. As a guest, you will enjoy the tranquillity, the view of the sea, and the salty air mixed with flowery scents from the garden. It's easy to imagine that you are here during Grønøy's heyday as a trading post.
Dining and refreshments
Grønøy Gjestgiveri has a cosy café that offers a simple lunch and dinner menu, homemade cakes, mineral water and a good coffee selection. Your accommodation includes breakfast, and all your meals can be enjoyed inside or outside in the beautiful gardens.
The inn arranges a variety of theme nights and hosts events. Please contact them to inquire about using this fine venue for you private event or celebration.
A guest quay – and an E-v charging station
Grønøy Gjestgiveri has its own quay for guests travelling in their own boat. For the convenience of guests, there is also a charging station for electric vehicles. For guests with disabilities, a wheelchair ramp provides good access to the inn.
How to get to Grønøy Gjestgiveri
A bridge connects the island of Grønøy to the mainland. Visitors can drive northwards from Halsa or also the Ørnes–Vassdalsvik ferry. If you're not bringing your car, the express boats that run between Bodø and Sandnessjøen call at Grønøy. The express boat ride takes two hours from Bodø and three hours from Sandnessjøen.
See Grønøy Guest House in Google Maps
Sporløs ferdsel og bærekraftig turisme
Takk for at du hjelper oss med å ta vare på naturen og lokalsamfunnene på Helgeland.
Takk for at du:
Praktiserer sporløs ferdsel, og tar med avfall og toalettpapir tilbake til nærmeste søppeldunk.

Planlegger toalettbesøk, slik at du får gjort det du må der det ikke er til sjenanse for andre.

Respekterer det lokale dyrelivet, holder hunden i bånd og holder god avstand til både ville og tamme dyr og fugler.

Respekterer privat eiendom, og holder avstand til private hus og hytter.

Viser godt båt-vett, holder god avstand til land, lav fart nært andre på vannet, inkludert dyr og fugler, og unngår unødig kjøring som skaper forstyrrende motorstøy.

Respekterer ferdsels- og ilandstigningsforbudet i sjøfuglereservatene i hekketiden.

Følger fjellvettreglene, og planlegger turer etter evne og erfaring.

Leier en erfaren guide på turene der du selv ikke har kunnskapen eller erfaringen som trengs for en trygg tur.