Gilles Café & Music
This café is located in No. 6 on the historic Sjøgata street in Mosjøen, in a long row of well-maintained wooden houses that date back to the 18th and 19th century.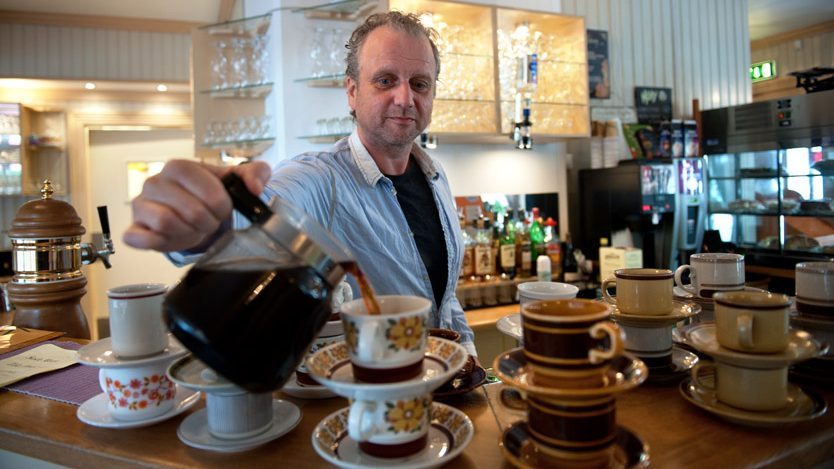 Gilles Cafe
A cultural café
Gilles Café does far more than serve good food – it is a cultural café that often offers great concerts. While the house itself preserves its 19th-century appearance, the interior is more inspired by the 1960s and 1970s. Suffice it to say that the café has a rather special ambience.
Year round, almost every Wednesday evening features a sushi and tapas buffet. Every weekday there is a hot buffet. From the à la carte menu you can order steaks, chicken, seafood, light dishes and more. Monday evenings are reserved for the Gilles Quiz. The café is fully licensed.
Gilles' cultural calendar features a large number of concerts large and small throughout the year. During the summer, the largest concerts are held in Gilles Garden, the café's own pleasant garden. Norwegian artists as well as foreign groups draw appreciative audiences of locals and tourists.
Mosjøen is the oldest town in Helgeland. Its events calendar always list a wide variety of exhibitions, performances, concerts and cultural festival throughout the year.
Monday-Tuesday-Thursday-Friday and Saturday 0800-1900. Wednesday 0800-2300.
From 15.06. it is open every day except Sunday from 08:00 to 23:00. Sunday from 12:00 to 23:00.
Events have their own opening hours.
See more information on facebook under Gilles Events and under Gilles cafe & restaurant.
Takk for at du hjelper oss med å ta vare på naturen og lokalsamfunnene på Helgeland.
Takk for at du:
Praktiserer sporløs ferdsel, og tar med avfall og toalettpapir tilbake til nærmeste søppeldunk.
Planlegger toalettbesøk, slik at du får gjort det du må der det ikke er til sjenanse for andre.
Respekterer det lokale dyrelivet, holder hunden i bånd og holder god avstand til både ville og tamme dyr og fugler.
Respekterer privat eiendom, og holder avstand til private hus og hytter.
Viser godt båtvett, holder god avstand til land, lav fart nært andre på vannet, inkludert dyr og fugler, og unngår unødig kjøring som skaper forstyrrende motorstøy.
Respekterer ferdsels- og ilandstigningsforbudet i sjøfuglereservatene i hekketiden.
Følger fjellvettreglene, og planlegger turer etter evne og erfaring.
Leier en erfaren guide på turene der du selv ikke har kunnskapen eller erfaringen som trengs for en trygg tur.