Dog sledding together with Aaslid Polar
Aaslid Polar offers dog sledding with Alaska Huskies in a great mountain landscape in the beautiful Susendal in Hattfjelldal, close by to the Børgefjell National Park.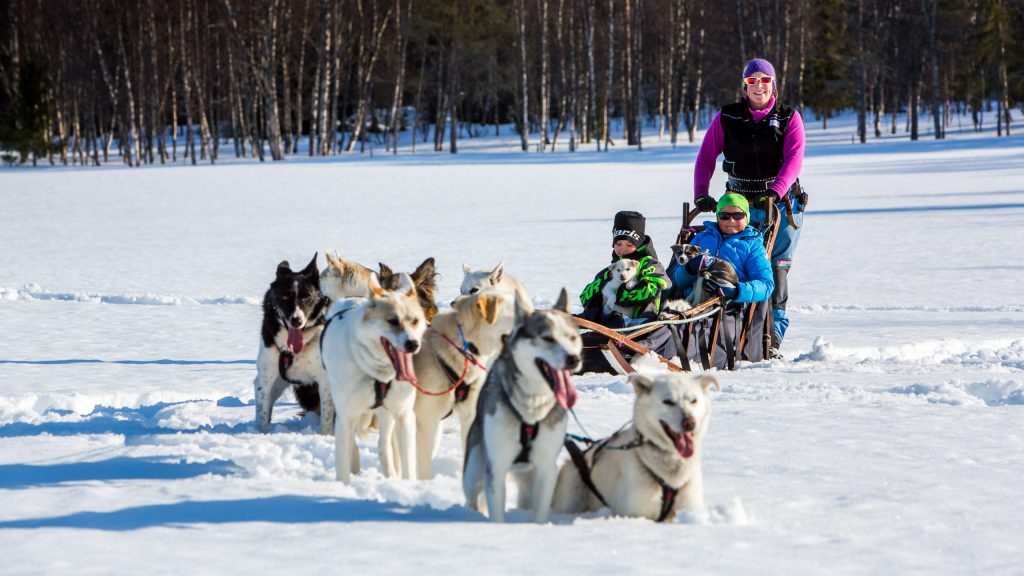 Hans Petter Sørensen
Aaslid Polar brings you along on a fantastic experience with happy dogs that is looking forward to taking you on a trip. You will have your own dogsled of Alaska Huskies, eager and enthusiastic dogs that loves to pull the sled. You will be joining in on the harnessing of the dogs and you get to know them before the hike begins.
Mushing is a real wilderness experience far away from the city's stress. On the sled it is only you, your new four legged friends and the silence of the mountains.
Northern Lights tour in the evening darkness
An evening's trip with a headlight is a very special experience, especially if the Aurora Borealis dances across the sky. Susendalen lies in an area where artificial light doesn't disturb and the probability of seeing the Aurora Borealis is therefore great.
Local food and campfire coffee
It is possible to order a food experience on the trip. Then you'll be served Fjellfolkets (The mountain peoples) food which is cooked from local food produced in clean nature and with a selection that varies from season to season. Coffee made over the bonfire is also a part of the meal.
Before the trip starts, you will receive training in how to handle the dogs and the sled. Here, everyone helps to harness the dogs and put them in the team. On the trip itself, you alternate between driving your own team and being a passenger.
Priser og bestilling
Half-day trip (approx. 3 hours): Adults NOK 1200, – children NOK 600, -.
Full day trip (approx. 5 hours): Adults NOK 1700, -, children NOK 1100, –
All tours include guide and dog team. Any transport and food on the trip will be added. & Nbsp; Meeting place to be agreed. NB! There are also opportunities for dog sledding in Mosjøen or other places by appointment.
NB! All tours must be booked in advance.
How to get to Hattfjelldal
You can take a train to Trofors in Grane and a school bus on to Hattfjelldal. Trip on to Susendal is agreed in more detail with Aaslid Polar. The nearest airport is Mosjøen, about 120 km from Susendal. School bus can be followed or rent a car. Drive south to Trofors, take the E6 and drive towards Hattfjelldal. From Hattfjelldal you drive about 40 km to Susendal.
Takk for at du hjelper oss med å ta vare på naturen og lokalsamfunnene på Helgeland.
Takk for at du:
Praktiserer sporløs ferdsel, og tar med avfall og toalettpapir tilbake til nærmeste søppeldunk.
Planlegger toalettbesøk, slik at du får gjort det du må der det ikke er til sjenanse for andre.
Respekterer det lokale dyrelivet, holder hunden i bånd og holder god avstand til både ville og tamme dyr og fugler.
Respekterer privat eiendom, og holder avstand til private hus og hytter.
Viser godt båtvett, holder god avstand til land, lav fart nært andre på vannet, inkludert dyr og fugler, og unngår unødig kjøring som skaper forstyrrende motorstøy.
Respekterer ferdsels- og ilandstigningsforbudet i sjøfuglereservatene i hekketiden.
Følger fjellvettreglene, og planlegger turer etter evne og erfaring.
Leier en erfaren guide på turene der du selv ikke har kunnskapen eller erfaringen som trengs for en trygg tur.
Om vinteren varierer temperaturen gjerne fra rundt 0 til minus 20. Hvis du skal være mye ute, er ullundertøy og vindtette klær dine beste venner. Kle deg etter trelagsprinsippet med et innerlag, mellomlag og ytterlag. Tykk lue og tykke hansker eller votter er spesielt anbefalt hvis du skal på være ute med lavt aktivitetsnivå, for eksempel hvis du skal se på nordlyset.