Historic lodgings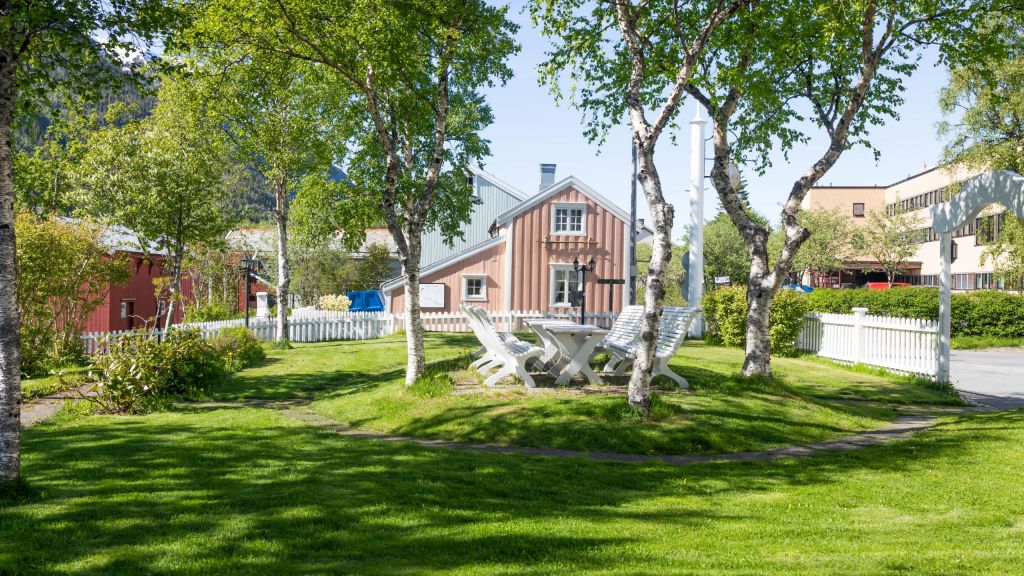 Kathrine Sørgård/nordnorge.com
Are you looking for lodgings that have soul and charm? A place to stay where you feel a sense of history, the whisper of bygone times? Then this is the list of great accommodation options for you!
By staying at these places, you are essentially following in the footsteps of previous generations of Helgelanders, and getting insights into their livelihoods and the lives and communities they built. Stone by stone, timber by timber, they built rorbu fishermen's cabins, wharf buildings and trading posts near rich grounds and along the shipping lanes. They built on storm-swept islands, along the harsh coast, by fjords, and along rivers in the inland mountains.
The historic Fru Haugans Hotel in Mosjøen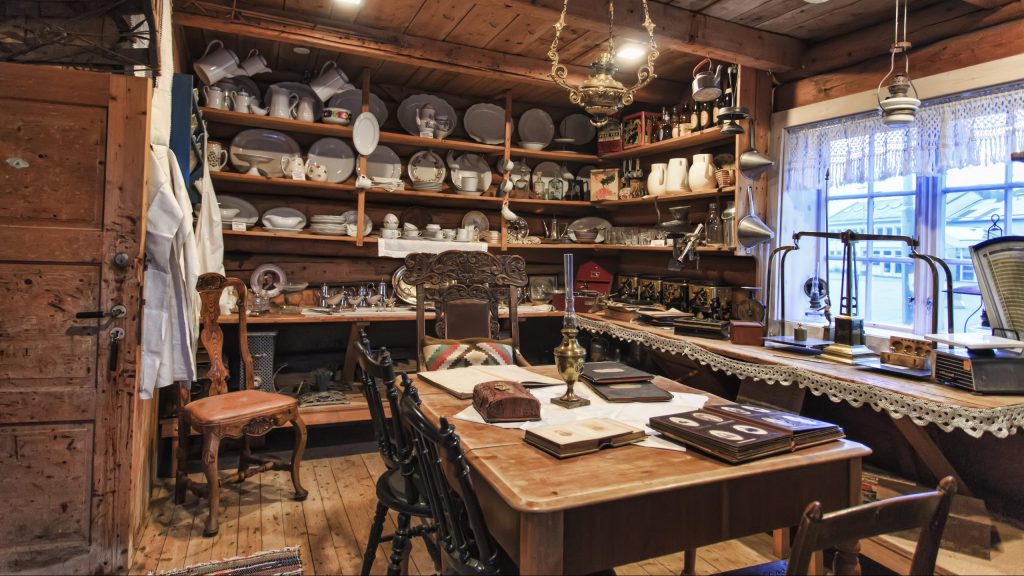 Cindy-Lou Dale
The venerable Fru Haugans Hotel, a proud member of the Historic Hotels & Restaurants of Norway, is situated at the end of the street Sjøgata, the historic centre of the town of Mosjøen. It is the oldest hotel in Northern Norway; since 1794, it has been renowned for its hospitality. Fru Haugans Hotel has been owned and operated by the same family since 1885
The hotel offers all the modern amenities that today's guests expect, but it has been carefully renovated so as to retain its character. Here and in the beautiful lounges you can relax and enjoy the unique environment of this venerable old hotel. The spacious and well-kept hotel gardens offer views of the mountain that overlooks the town. At the end of the garden, down by the river, Fru Haugans has its own guest harbour for people who are travelling by boat.
Tip: If you eager for a good adrenaline rush, we recommend taking the Mosjøen Zipline. From the nearby mountain, you soar 700 metres and over the Vefsna river Vefsna, landing safely in the hotel gardens
Støtt – coastal culture at its best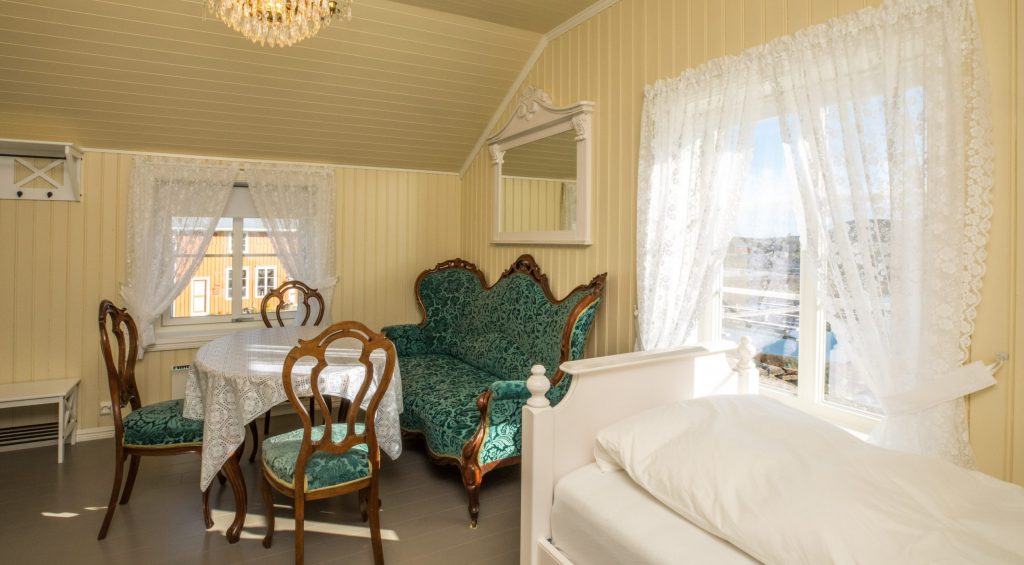 Hans Petter Sørensen/www.faroutfocus.no
On the idyllic island of Støtt is a vibrant fishing community and old trading post. There you can stay in charming and luxurious accommodation that inspires a sense of nostalgia. Choose a room in the lovingly restored Bakeriet, Rorbua or Stabburet. The most exclusive choice is the Sea Suite on the second floor of the old bakery. And the rooms in Rorbua have stately antique furniture and chandeliers.
Gammelbutikken Restaurant at Støtt, situated in a general store dating from 1878, proudly shows the heritage of the coastal culture. In this ambience, or at outdoor tables, you can dine on amazing seafood prepared from the local catch.
Tip: Although Støtt has only 7 km of road, it's a great place to explore on two wheels. The nature is wild and pristine, and everywhere you have a view of the ocean! Støtt Brygge offers bike rental.
Romantic surroundings at Dønnes Gård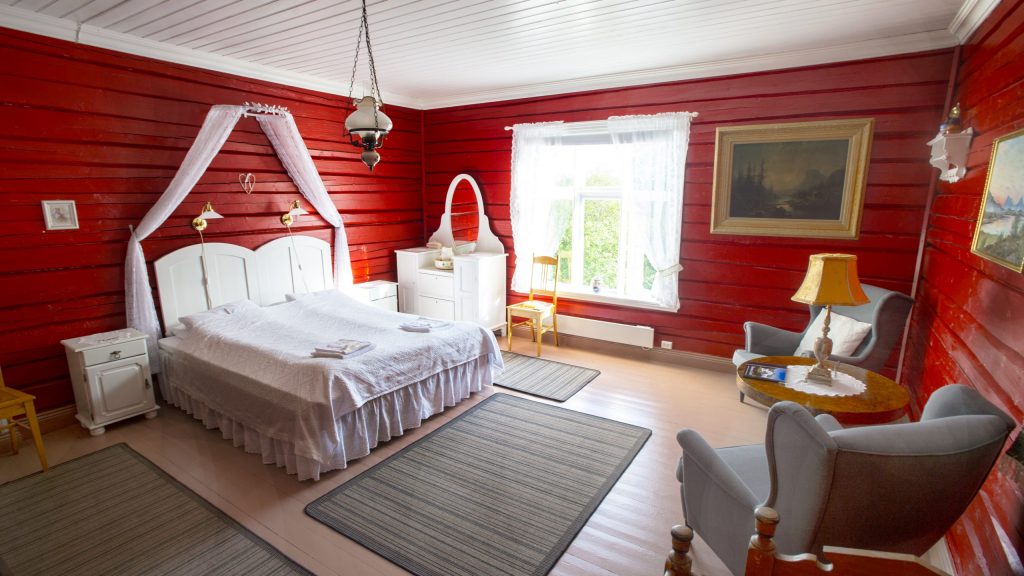 Dønnes Gård
Dønnes Gård, a former vicarage, offers dining as well as accommodation. There are six charming double rooms in the main house, with additional rooms in an old schoolhouse nearby. Dønnes Gård has been awarded the St. Olav's Rose (Olavsrosa) for its impressive efforts to preserve the local heritage.
While you are here, take a guided tour of the beautiful mediaeval Dønnes church next door. Also consider the 2-km hike on the cultural trail to the top of Dønnesfjellet, which has a magnificent view of the Helgeland coast and its many renowned mountains.
Tip: Given such romantic surroundings, and the beautiful Dønnes church right next door, it is easy to understand why this is one of the most attractive places in Helgeland to get married.
Forvik Old Trading Post – charming and historic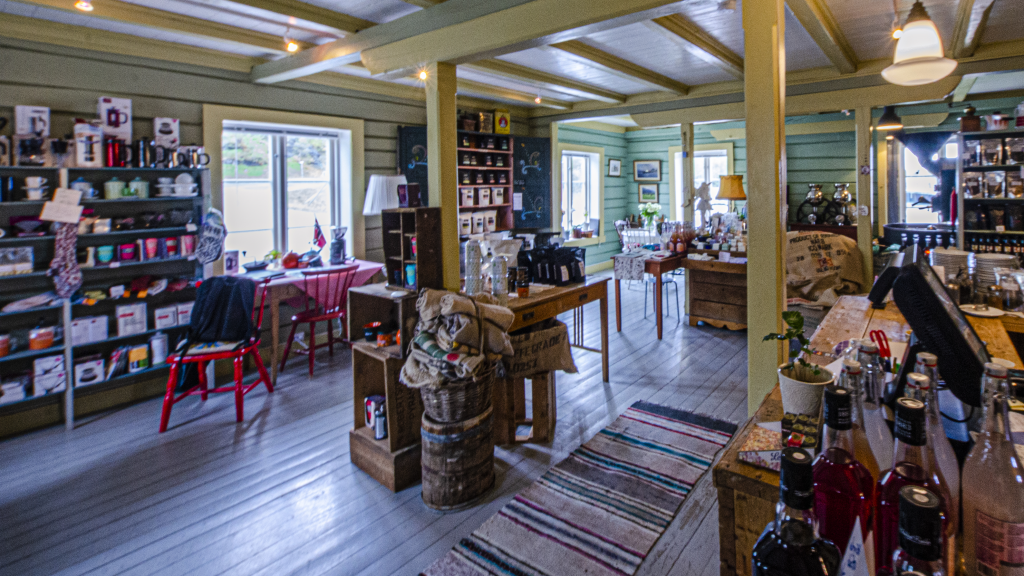 Handelsstedet Forvik
At Forvik Old Trading Post, you can stay in historic surroundings. Grålåna, a house built around 1750, has been faithfully refurbished. Five rooms are available for guests. Forvik is situated in the friendly community of Vevelstad, which has just 500 residents.
At their seaside restaurant, Naustloftet, hearty traditional fare is served in charming surroundings. Its menu is based on local ingredients. The fish soup comes highly recommended, as does boknafisk, a dish made from wind- and sun-dried cod, and a Northern Norwegian delicacy!
The old general store now houses a coffee roastery. The moment you enter the door, you notice the wonderful scents of coffee, chocolate, tea and sweets, all in sublime union.
Tip: Visit the ancient petroglyphs in Vistnesdalen. The 6000-year-old petroglyphs depict stylised reindeer, moose, halibut, human figures and foot-soles. There are also boats and striking geometric figures.
The inns of Sjøgata – a taste of a bygone era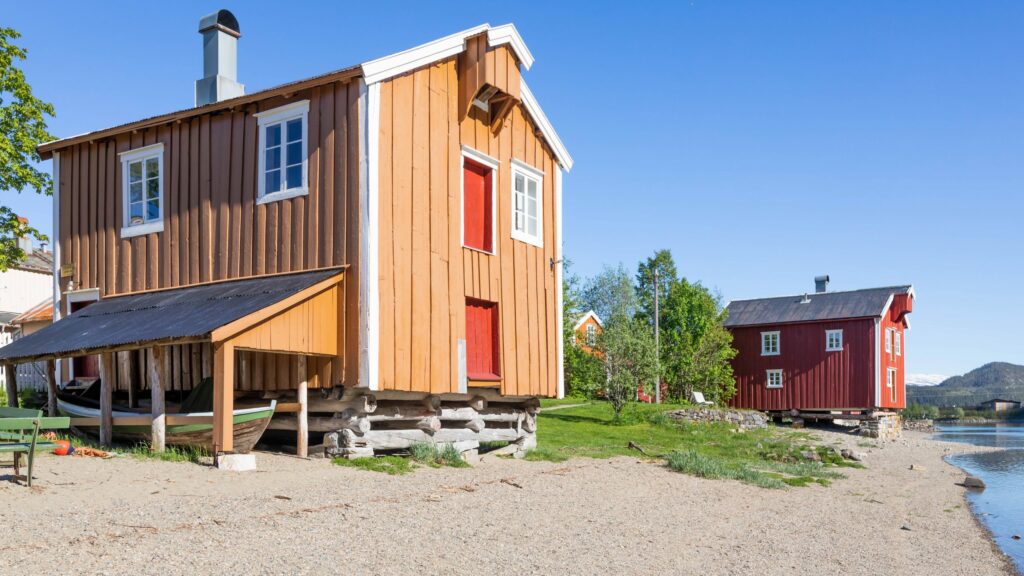 Kathrine Sørgård/nordnorge.com
Visitors to Mosjøen are welcome to stay in one of the historic houses on Sjøgata street. The charming apartments offered by Kulturverkstedet are furnished in the old style but are fully equipped with modern conveniences. Enjoy a taste of times that were less hurried than our own.
As a guest in one of these old houses, which date back to the 18th and 19th century, you will find yourself immersed in the town's historic setting. Take time to visit the wharf museum for insights into Mosjøen's colourful history; step back into an age when these proud houses had just been built, when ladies wore long skirts and gentlemen sported handlebar moustaches.
Tip: Be sure to take a stroll on Sjøgata, looking closely at the architecture of these well-kept old wooden houses. And when the mood strikes you, stop for a cup of coffee at one of the cafés, or a full-fledged meal in one of the restaurants.
Tjøtta Gjestegård – in Viking Age surroundings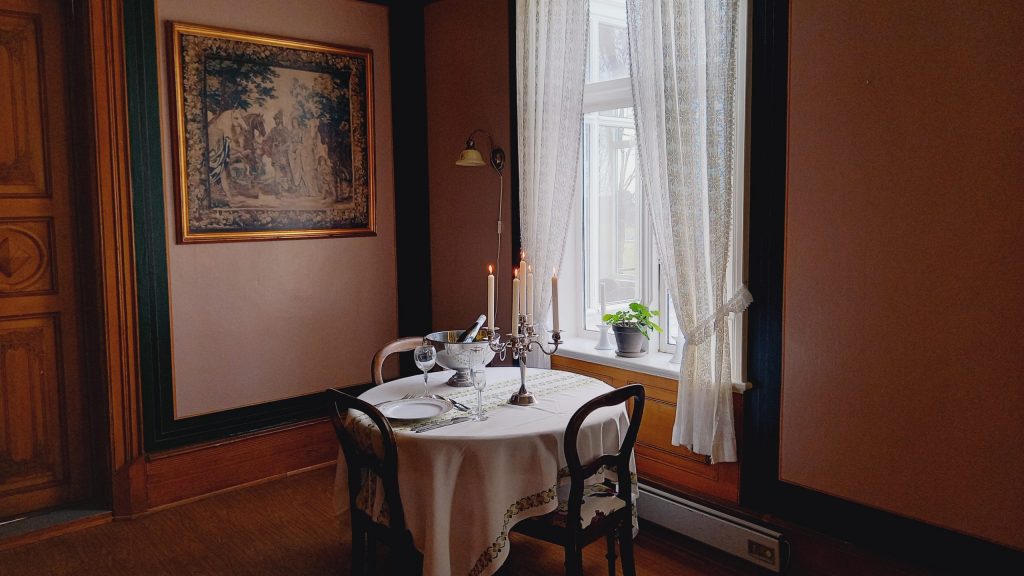 Kristine Kleven / Tjøtta Gjestegård
The venerable 19th-century inn is situated in scenic surroundings that date back to the Viking Age. Tjøtta Gjestegård invites you to dine well and stay overnight in historic surroundings. Nearby are a number of attractions. The Petter Dass Museum celebrates Northern Norway's beloved 17th-century poet priest. In addition you are within reach of the medieval Alstahaug church, the Seven Sisters mountains, the Vega Archipelago World Heritage area, and the popular coffee roaster at Forvik.
Tjøtta Gjestegård is an excellent holiday base from which to explore the Helgeland coast's magnificent scenery and heritage, taking day excursions to the natural and cultural attractions of your choice. Be sure to take a local guided walk, which offers insights into Tjøtta's colourful history back to the Viking Age. Your guide will also tell you the stories about Tjøtta International War Cemetery, and the largest shipwreck in Norwegian history.
Grønøy Gjestgiveri – a charming old inn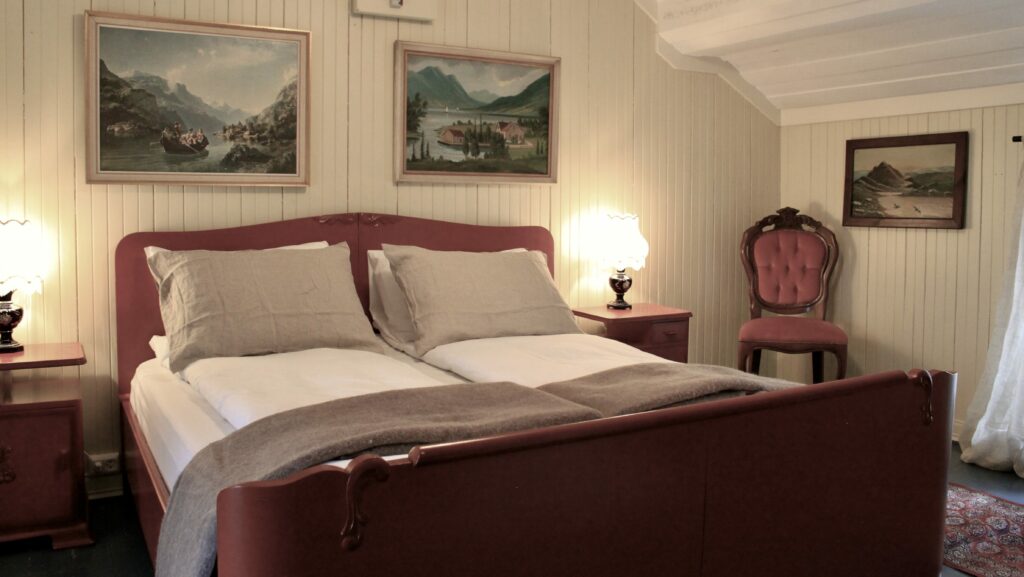 Patrik Tindre Tegnander
This charming inn was built in the late 17th century. You can really sense history in the walls of this authentic Nordland house. Whether you're staying a few nights or just visiting for a hearty meal, you will really enjoy your time on the beautiful island of Grønøy.
In the 1700s, Grønøy ("the green island") was an important trading post. From 1914 to 1957, the Norwegian coastal steamer, Hurtigruta, made regular calls here. Today, people travelling by private boat can dock at the convenient guest quay. Regardless of what time of year you visit, you can explore a scenic island with beautiful beaches. The popular inn, Grønøy Gjestgivery, also features a beautiful garden that attracts the locals as well as visitors.
Tip: Grønøy Gjestgiveri has its own quay for guests travelling in their own boat.